Dota 2: Everything you need to know for The International 2017 main event!
The main event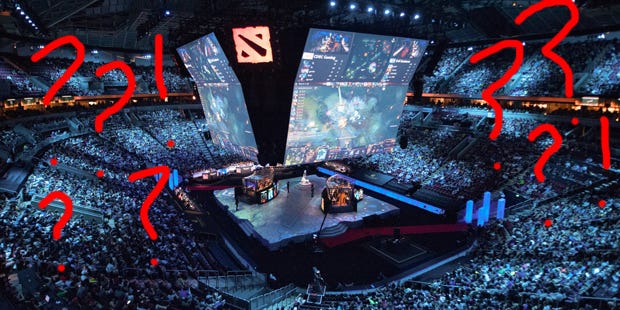 The main event of Dota 2's premier mega-tournament, The International 2017, kicks off today – and the first round of matches has been decided by a group stage full of surprises. Here's everything you need to know to get you up to speed (or to bluff your way through a conversation with Dota-loving friends!)
Who's in?
If you're looking for a top-line summary of where everyone still in the competition currently stands: Team Liquid, LGD, Evil Geniuses, TNC, LGD.Forever Young, Newbee, Virtus.pro and Invictus Gaming will head straight into the upper bracket, having claimed the top four spots in groups A and B respectively. Team Secret, iG Vitality, Team Empire, Infamous, OG, Cloud9, Digital Chaos and Execration will need to attempt a run through the lower bracket – including the first round best-of-ones, a single do-or-die game before subsequent rounds become full best-of-threes.
An early bath
Still, it beats being eliminated, and under Valve's latest group stage format, that's exactly what happened to the teams who finished last in their groups, Fnatic and Hellraisers. It's a shame to see them go – especially Hellraisers, who fought all the way through the open qualifiers, then the European regional qualifier, to make it to Seattle – albeit not terribly surprising. Neither team (in their current forms) had much experience at top tier LANs, much less any success, and TI is as cutthroat as it gets.
What was surprising was the four-time Major champion OG dropping into the lower bracket. They actually finished with more individual game wins than losses overall in the group stage, but LFY, Newbee, Virtus.pro and iG all had more series wins to their name while OG racked up a host of 1-1 draws. That said it was a close call for that final upper bracket spot - Virtus.Pro were heading for a tiebreaker with OG until they managed to edge one point ahead with a second win against iG - it was an impressive comeback with devastating use of the classic Dark Seer/Sven combo (go from about 6m44):
Cloud9 Doing Cloud9 Things
OG weren't the only ones playing below expectations. Cloud9, winners of the North American qualifier, spent most of the first three days staring down the barrel of elimination from Group B – it took a crucial 2-0 win over Digital Chaos, plus Hellraisers' continued (even greater) misfortunes, to secure a spot at the main event. Happily though, the DC series was Cloud9 at their ludicrous best, throwing leads then clawing them back in chaotic fashion. Just look at how game 2 ends: Go from 28m42s to spot a failed courier snipe by EternaLEnVy which becomes an unintentional bait play, snowballing into a match-winning teamfight. Ridiculous.
Empire try to strike back
Empire also had a spell on the brink of elimination from Group A. It probably didn't help that their carry player, Chappie, couldn't get his passport back from Russia's US embassy in time to attend, although substitute Resolut1ion has put in some strong performances. One of those was arguably the most tense game of TI7 so far - a 128-minute epic against iG.V, complete with lengthy Mega Creep defences and multiple Divine Rapiers.
Here's a less strenuous 11 minutes of highlights:
Sibling rivalry
While OG and Cloud9 fell short, it was the sister teams of LGD and LFY who emerged as unexpected potential champions. LGD finished second in Group A with a 12-4 record, while LFY flat-out won Group A, at 14-2. LGD in particular has a habit of struggling throughout the year then making a deep run at TI, though whether either of these hot streaks will endure into the main event remains to be seen.
Liquid are doing it...
Group A winners Team Liquid seem like the real team to beat at the moment; besides all five members showing incredible talent individually, they're also terrifyingly well-coordinated. Top 3 material, easily.
Heroes of the moment
As expected, Night Stalker took his place as king of the TI7 meta, showing up as either a pick or ban in the vast majority of games – that enhanced vision and lethal early roaming potential seems just too good to pass up. Earthshaker has also returned from relative obscurity, aided by his extremely rare ability to run as a support, offlaner or mid.
Altogether more surprising is Pugna's newfound status as a hot pick – a few teams, most notably EG, have attempted a core Pugna in the past, often failing miserably. He's not exactly an insta-win at TI7 either – OG's n0tail racked up a full 20 deaths with him against VP – but his health-draining ultimate is clearly a desirable source of both outrageous damage against foes and rapid healing for teammates. Jokes about saved strats aside, all three heroes are set to be mainstays on the main stage.
Where and when?
Speaking of which, the first match of TI7 proper – an upper bracket clash between Liquid and iG – is scheduled for 6pm BST today, though tune in an hour or so earlier (via Twitch, YouTube or in-game) for the pre-show. Hosting duties this year are being handled by Sean 'Day[9]' Plott, of pro Starcraft and being told off by Purge fame, which should be fun.
Games run every day until the grand final at 11pm (gulp) on Saturday 12 August. Keep checking back here, as I'll be doing regular recaps/previews of the final three days, assuming I haven't died of some big play-induced cardiovascular malfunction!