Old Hopes: Star Wars Rogue Squadron & Rebellion On GoG
Plus Empire At War Gold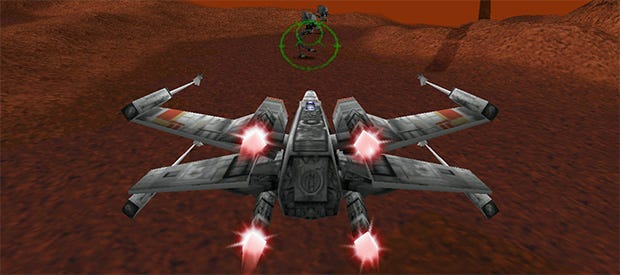 Earlier this week, GoG exhumed the last remaining X-Wing games from Lucasarts; grave, and as promised they've now added more long time ago games to their good ol' shelves. Most of them have been available from other download stores for quite some time, but it's the first time on the digi-block for ponderous 4X Star Wars: Rebellion and spaceship shooter Rogue Squadron 3D.

Don't expect any changes bar ensuring these all run on modern Windowses, but it's nice to have them available, especially as the world moves into an age of pretending all that prequel bollocks never happened.
Also striking back on GoG today is the Empire At War Gold Pack. That's the most recent attempt at a Star Wars RTS. My main memory of it is writing a sneery review of the expansion pack, in which I was particularly rude about the Star Wars 'expanded universe'. This prompted a particularly passionate fan to declare on a forum that he intended to construct a wax statue in my image on my front lawn, then melt it in order to punish or terrify me. To this day, I remain bitterly disappointed that it never happened, and can only attribute this to the fact I've never lived anywhere with a front lawn. So maybe it'll happen one day, in the unlikely even I ever own a big enough house.
ANYWAY. In five days' time, we get three more Star Wars games, albeit ones you can already obtain elsewhere. These are Jedi Knight II (pretty good!), Starfighter (never played it, probably for a reason) and Republic Commando (surprisingly brillo). Those are due on the 27th.
There's also Grim Fandango Remastered on the 27th, which I'm playing RIGHT NOW but can't tell you about until next week. More Lucasarts games are promised later in the year, too.