Dungeon Defenders 2 launches out of early access
Free-to-defend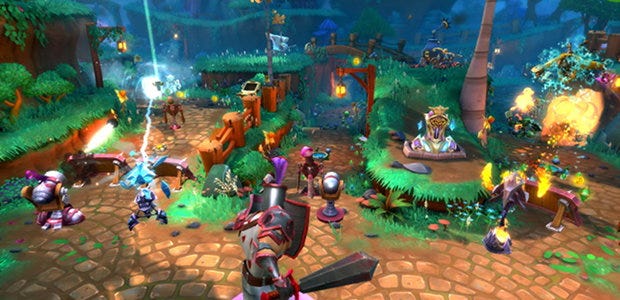 After two-and-a-half years in early access, free-to-play tower defense action-RPG Dungeon Defenders 2 [official site] has launched in full. If you want to fend off monsters with towers while scampering about murdering them yourself, swing by Steam and get to it. Given that free-to-play games rely on a steady flow of updates anyway -- and more are certainly planned for Dungeon Defenders 2 -- what's special about leaving early access? Things that make it friendlier to casual passers-by: improvements to the tutorial, campaign, and HUD, along with a fair few bug fixes.
Full patch notes for the launch update are over here. Developers Trendy Entertainment say:
"We've been in Early Access for more than two years. With more than 60+ updates, Dungeon Defenders II has grown up before our very eyes. It's been exciting and, quite frankly, a little unnerving to develop a game with you watching every step of the way. Our growth and improvement is because of your support, your feedback and the dedicated members of our team who went above and beyond to drive our game forward. We're proud of where Dungeon Defenders II is today, but launch is just the beginning. With your support, Dungeon Defenders II is only going to get bigger and better!"
With the game now friendlier to new players and officially launched, Trendy tell players "we're spinning up on features and changes you've been asking for (Endless Mode says hi)."
I know no-longer-our Jim found the first Dungeon Defenders a delight, though when Alec played Dungeon Defenders 2 a bit in 2014 he ultimately concluding that he is an old man. Mate, I could've told you that. Have you defended any dungeons more recently, gang?