Drones, Derelicts And Survival Horror: Duskers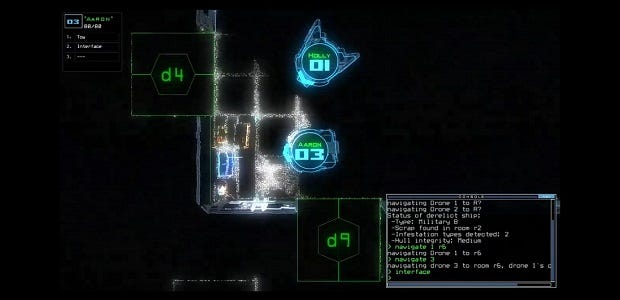 Late last year, I reviewed a game called Deadnaut, which follows gangs of expendable fools exploring derelict vessels in space. Then they die. It wasn't a big release and its combination of well-pitched glitchy graphics and palindromic doom mood only carried it so far, but I'm glad to have played it. Duskers looks like it'll be exploring similar territories - murky, poorly lit ship interiors, seen through the optical equipment of drones sent to explore the darkest corners of a world gone dark.
It's regulardark rather than grimdark, I reckon. A world become a graveyard. Spooks. But how does it all work? With a command line interface and tactical trickery, that's how.
Perma-death in a procedurally generated galaxy. Sounds delightfully dreadful, and I mean that in the nicest possible way.
In film terms it's The Road meets the first Alien movie. In game terms: It's a rougelike with elements of dungeon crawling and real time strategy, but in a survival horror setting that focuses on subterfuge, and adapting to survive.
That's from the Steam page - Early Access beings August 13th - and apart from the rogue/rouge slip, it all sounds very promising. I'm slightly concerned the command line input method will be too clever for my feeble brain but I'm willing to give it a shot.