Dying Total War Fan Immortalised As Rome 2 Unit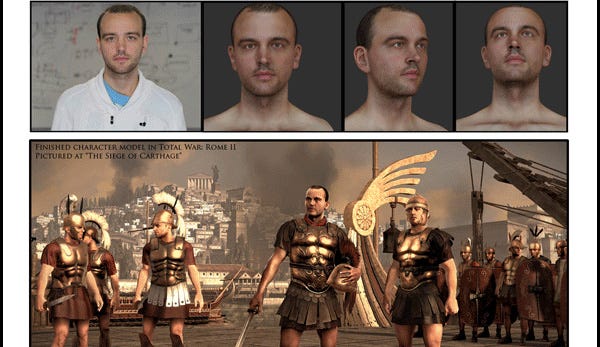 The videogames industry isn't all sexualisation, lies and Doritogates, you know. Sometimes nice things happen because they are nice things. Case in point, the Creative Assembly giving a fan with not long to live a chance to play pre-alpha Rome 2 code, advise on its development and be recreated as a proud soldier of the Roman empire in-game. Tragically, the chap did not survive his battle with cancer, but this seems a touching memorial.

Eurogamer tells the story of terminally ill 24-year-old-James, who sadly succumbed to his liver cancer late last year. Before that, charity Willow arranged, at his special request, for him to visit the Creative Assembly's HQ in Sussex to meet the team and see as much as he could of the then-newly announced Total War: Rome 2.
James even provided some handy feedback for the devs. "James was remarkable on the day," reckoned CA community manager Craig Laycock. "His enthusiasm knew no bounds. He asked passionate questions and offered clear and concise suggestions on features for the game."
James' likeness was also captured for a hand-modelled recreation of him playing a Roman soldier in the battle of Carthage. He looks pretty handy with a Gladius to me - hopefully we'll all get to see him in the finished game.