Eggo Arr Aws Eeeee! Aa Oo Aaiier!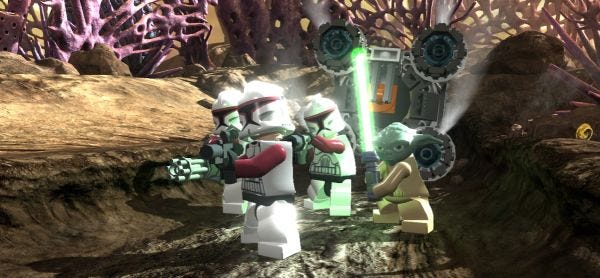 Cynical people, naff off. I adore the Lego games. With the possible exception of Lego Indiana Jones, they've been amazing creations, packed with wit and detail like little else. Lego Harry Potter should have been in our 2010 Calendar, and it was only because I didn't play it until too late that I didn't know to argue for it. So news of Lego Star Wars III: The Clone Wars is to be met with delight. Good - I hope everyone's changed their minds and agrees with me now.
One particularly lovely thing about the games is that there's no recognisable dialogue at all, instead everything communicated through peculiar speech-like noises. The video below shows the actors in the studio willingly looking daft to create these noises, along with snippets of the forthcoming game.
It's out in March, and I'm mightily looking forward to it.