Elite: Dangerous Horizons Beta Now Roaming Planets
Moon-death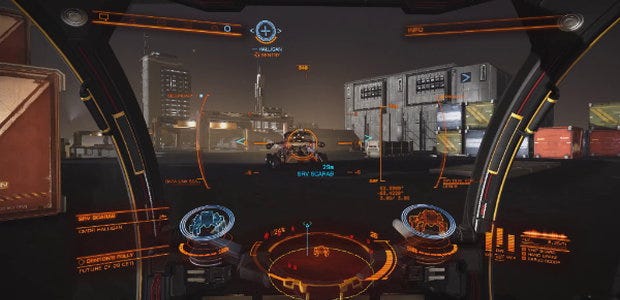 Beta access opened tonight for the first phase of the planet-roaming Elite: Dangerous [official site] expansion Horizons, which I believe is for folks who pre-ordered.
"Aha! But Alice," you say, in a snide tone of voice that you know makes people want to twat you in the nose but makes you feel so clever, "I thought you said never to pre-order? I distinctly recall you saying that several times." Very good, clever clogs, so you get the biggest treat of all: watching Elite head honch David Braben prepare to die of asphyxiation on a lonely moon:
Oh David, you silly egg!
The beta is now live for folks who have access. Horizons is due to properly launch this holiday season, which I assume means some time before Christmas. Go have a peek at the patch notes to see more about all it brings.
Planetary landing and exploring is only the first part of Horizons, mind. It'll also bring multi-crew ships, a character creator to give yourself a face, and... some other stuff. More things. An "all-new game-changing loot and crafting system," say makers Frontier Developments. Other things too.
Frontier are selling Horizons in a weird way. It is an expansion (or some kind of DLC season pass), but is sold as a standalone - the base game plus all the Horizons stuff. £49.99 is how much the whole shebang will run you. They do at least offer a £10 discount to existing Elitists but it's a bit weird. But hey, Elite's only £10 on Steam and from Frontier right now on sale.
Anyway, here's a pair of recent videos from Braben showing going from orbiting around Europa, a moon of Jupiter, to landing and going for a nice little drive. Will you be hopping in, space cowboys?