Endless Legend Free On Steam This Weekend
Our favourite game of 2014.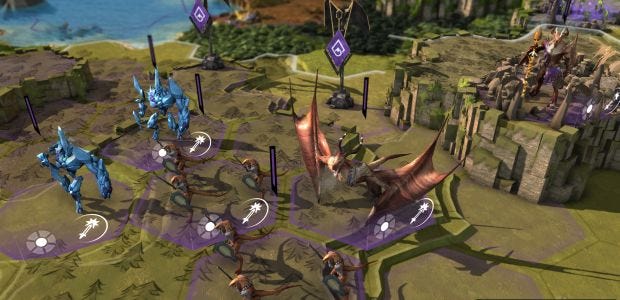 Endless Legend [official site] is the Bestest Best Game Of 2014 says we, but it's possible that you still haven't found time or money to sink yourself into the clever, fantasy, 4X strategy game. Good news, then! The game is free this weekend on Steam, from now until the end of Sunday. That seems like long enough to see whether its hexagons are for you.
Alternatively, its cousin Dungeon of the Endless [official site] is also free for the same period.
If you don't know, Dungeon of the Endless is a roguelike-meets-tower-defence game set in the same universe as Endless Legend. Actually, it's set on one of the spaceships from Amplitude's previous 4X game Endless Space, which has crash-landed onto the planet which you're trying to conquer in Endless Legend. That sounds complicated and kind of brilliant, but the important part is that they're all games which do interesting, formula-twisting things with their respective genres. If you're disappointed that Endless Space isn't part of the free games this weekend, you can comfort yourself with another that is, Fractured Space [Steam page]. I haven't played it, but it's a multiplayer space game about giant capital ships doing attractive laser war at one another.
Steam's free weekends, in case you weren't sure, allow you to play a game for free during a period defined by the developers. Once the time expires, you'll have to buy it if you want to continue playing.
If you've read the Bestest Best Game piece linked above, try also this piece on why Endless Legend is the Bestest Best 4X of the same year, or Adam's review of Dungeon of the Endless.