Enemy Known: XCOM's Baaaaaaaaaack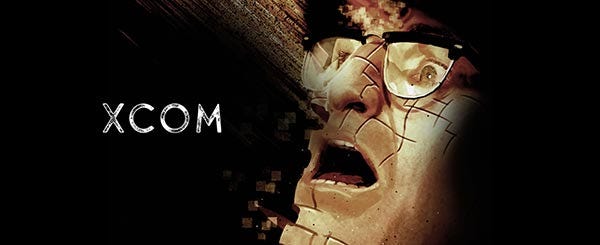 Yeah, you heard me. X-COM, the game to end all games, is finally getting its long-rumoured remake/sequel. [Boom. Internet explodes.] Wahoo, basically. Yes, it is indeed a first-person shooter - it is extraordinarily sad to wave away X-COM's traditional genre, but c'mon, did you really think a AAA title in 2010 (or 11, or whenever it ends up being released) was going to be a turn-based strategy game? Let's wait and see where they take it, at least.
Contrary to ancient prophecy, this tantalising do-over isn't being made by Ken Levine, but rather is pitched as a game from 2K Marin, the Bioshock 2 chaps. Though it also seems 2K Australia (née Irrational Australia) are heavily involved. Sparse announcement details and the first in-game screenshot are below...
Click upon the curious, space-donutty shot above for a bigger version, and pore over it carefully - you may dig up more details than are at first apparent. It's also worth keeping an eye on the minimalist new website.
Here's the sum total of details so far...
2K Games announced today that XCOM®, the re-imagining of one of gaming's most storied and beloved franchises, is currently in development at 2K Marin, the studio behind the multi-million unit selling BioShock® 2. Currently in development exclusively for the Xbox 360® video game and entertainment system from Microsoft and Windows PC, XCOM combines the strategic core of the groundbreaking franchise with a suspense-filled narrative and distills it into a tense and unique first-person shooter experience.
"With BioShock 2, the team at 2K Marin proved themselves as masters of first-person, suspenseful storytelling, and with XCOM they will re-imagine and expand the rich lore of this revered franchise," said Christoph Hartmann, president of 2K. "Players will explore the world of XCOM from an immersive new perspective and experience firsthand the fear and tension of this gripping narrative ride."
XCOM is the re-imagining of the classic tale of humanity's struggle against an unknown enemy that puts players directly into the shoes of an FBI agent tasked with identifying and eliminating the growing threat. True to the roots of the franchise, players will be placed in charge of overcoming high-stake odds through risky strategic gambits coupled with heart-stopping combat experiences that pit human ingenuity – and frailty – against a foe beyond comprehension. By setting the game in a first-person perspective, players will be able to feel the tension and fear that comes with combating a faceless enemy that is violently probing and plotting its way into our world.
"Violently probing". Snicker.
You'll be hearing much more about XCOM (look ma, no hyphen!) soon. I would strongly advise staying your jerking knee until then. Those few words above, these two mysterious screenshots? That is all you know. It's not Enforcer. I promise you that.