'Ere We Go - League Of Legends: Road To Worlds
Soon to be upgraded to a multi-lane highway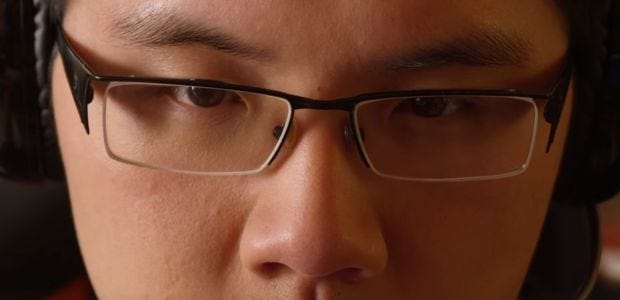 It is very weird, having been interested in DIGITAL SPORTS for as long as I can remember, for it to now be old enough and big enough to have fancy documentaries. Riot's offering is their Road To Worlds series, looking at the teams and players competing in the Season 4 World Championship from September 18th. The first of three parts is out now. 'The Beginning' charts a brief history of competitive LoL through Seasons 1 and 2, showcasing the players that won those tournaments and are still playing. The other two episodes will be released in the coming week in the run up to the start of the finals.
It's pretty standard sports documentary stuff: interviews with worried parents; showcasing specific plays that lead to victory; focusing on those that triumphed. Even with a short run time it covers a lot of bases, but doesn't bother to introduce game mechanics or terms for its likely already invested audience. We're shown how much the game has grown with insights from the Riot co-founders and the casters that have been working since that time.
It's a different beast from Valve's Free To Play, in terms of message. It's made to hype up an audience for the Season 4 finals (likely to be the most-viewed eSports event ever), rather than just tell the story of a single tournament. As someone who pays little attention to the competitive LoL scene outside of the big events, it got me interested, so job done. The history parts brought a nostalgic half-smile, half-grimace to my face--eSports in 2010 was, in retrospect, a hilarious shambles.
Part two on Friday will cover the Season 3 finals, then the series will wrap on Monday by showing off what players have been up to this year. The first episode came with a Q&A with the director, if you're curious.