Eugen Systems strike is over but the fight continues
After seven weeks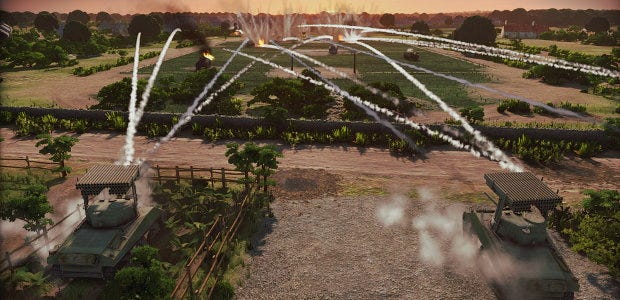 Employees at Eugen Systems, the French studio behind strategy games including R.U.S.E. and Steel Division: Normandy 44, have ended their strike after seven weeks. After more than a year of disputes with management over alleged problems including unpaid contributions and ignoring conditions of contracts, half of the studio went on strike in February. But negotiations have stalled and the strikers don't think continuing will change much, so they're ending the strike and taking the fight to a labour tribunal.
"We do not think we will gain any additional ground with this strike, despite the fact our grievances are simply about conforming to labour laws and collective labour agreements," Eugen said in Tuesday's statement:
"Thus, we have stopped striking Tuesday, April 3rd, after more than a month a half, to conserve our resources for the future. But this clinical observation does not stop at all our determination: even if the strike is over, the struggle isn't. We will continue to fight for our rights with the legal means at our disposal. Therefore, approximately fifteen Eugen Systems employees and ex-employees have seized the prud'hommes (French labour tribunal). We do not forget also that this movement for a betterment of everyone's working conditions was shouldered by a collective of 24 employees out of 44 employed at the company."
Eugen employees had raised allegations including non-payment of medical contributions, non-payment of overtime, and contract conditions going ignored, leading to demotions and paycuts for some. After 15 months of fruitless discussions with management, a number of employees went on strike - after which they say management didn't even talk directly to them for two weeks.
The strikers thanked people for their support--personal, political, and financial--over the course of the strike. They're still collecting donations for the strike, which will split between themselves, but will wrap that up soon.
"We want this industry to mature, to recognize the value of our work and of our skills," they concluded. "And we will continue to do so, whatever the intimidation attempts."
The prospect of unionisation has gained a lot more attention in the video games industry following a GDC roundtable discussion, as Adam explored. That had became a focal point of pro-union developers, who feared the International Game Developers Association moderator would set an anti-union tone. They formed the Game Workers Unite organisation to spread the word and support people planning to unionise. The industry at large has serious problems, luring people in with 'dream jobs' then burning them out with ridiculous hours and other abuses, and evidently won't fix itself.