Europa Universalis IV: Cradle of Civilization announced
Brendy's travels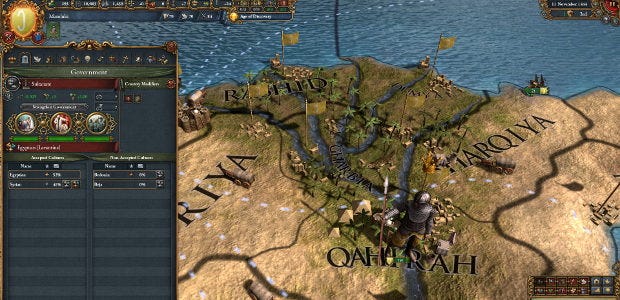 Paradox's historical strategy Europa Universalis IV [official site] will expand once more later this year with Cradle of Civilization, the next paid expansion. Its main focus is Muslim empires, expanding and reworking the Persian region and Islam. And as is the Paradox strategy way, the expansion will be accompanied by a free update bringing related changes for all players.
Paradox blast these as the bullet points for Cradle of Civilization:
Mamluk Government: In a diverse empire, where the slaves are now masters, new sultans must rely on cultural power to stay viable.
Persian Theocracy: Persian nations can use the power of the faith to bolster their regime.
Tribal Federations: The Black and White Sheep tribes in Armenia and Mesopotamia must expand to exploit the unity of local clans.
Army Professionalism: The Age of Mercenaries slowly transitions to the Age of Standing Armies as you recruit new generals and drill your peacetime army.
Iqta Taxes: Muslim governments can impose new taxes every 20 years for special bonuses.
Trade Policies: Instruct your merchants to take actions in trade nodes to increase your trade power or military advantage.
Islamic Schools: The wide range of Sunni and Shia disciplines offer unique perks to their disciples and transforms international relations across the Middle East.
While Paradox only formally announced the expansion today, they've been gabbing about it for a while. Over the past few months, they've posted developer diary entries detailing army drills and professionalism, trade policies, and tribal federations.
Europa Universalis IV: Cradle of Civilization and version 1.23 are due to launch some time in "late 2017". The expansion will cost £14.99/€19.99/$19.99 on Steam.
As for the free update, that's version 1.23 aka the 'Persia Update'. It'll make these lands more interesting to dovetail with the expansion's new systems and content. Dev diary entries have explained adding new provinces and countries in Arabia and Egypt, changing the Caucasus and Anatolia, new trade goods and changes to the Iranian region, and reworking Islam and piety.
In other EU4 news, our boy Brendy today jets off to Poland for a LARP LAN party thingamy. We've tried convincing him that costumes are mandatory, so look forward to pictures of him surrounded by folks in regular clothes while he stands sheepish in a outfit hastily assembled in airport shops. My predictions include: a masquerade mask made from a sleep mask with cut-out eye holes and ornate doodles in gold glitter gel pen; a travel towel for a cape; a bag of boiled sweets as precious gems; a coiffured wig of Bodyform So Slim liners rolled into curls.