Eve Online FPS spin-off Project Nova is still coming
CCP haven't podded it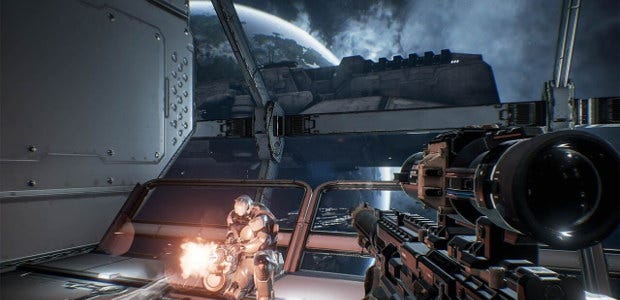 Since the final death of CCP's World Of Darkness MMO, whenever the Eve Online studio go quiet about other in-development games I start to suspect they've smothered them too. They had been slipping into a similar pattern with Project Nova, the multiplayer first-person shooter set in the world of Eve, but now say "we're looking forward to unveiling the game properly" later this year - "in months, not years." That's the word today from CCP CEO Hilmar Veigar Pétursson at the annual Eve Fanfest.
"Space will be your domain, the majestic spaceships of Eve Online will be your playground," Pétursson said. "Have you ever wondered what it'd be like to run around on the surface of a battleship, to hear its guns roar? Soon you will know."
He said that CCP have learned a lot from Dust 514, the PlayStation 3 Eve FPS which they shut down in 2016. He's clear that "the most important thing needs to be the moment-to-moment gunplay experience," so they've been focusing on that. CCP are working on the game with Sumo Digital.
Nova won't initially hook into Eve Online, because CCP want to focus on making it decent as a standalone. But they do plan to connect the two, socially first, then economically, and eventually... who knows?
Steven Messner chatted with Nova senior director Snorri Árnason during Fanfest 2016 and had a play. He wasn't super into it, saying "right now, it plays like a thoroughly basic shooter", but of course that was early days for the game.
CCP plan to release Project Nova on PC "when it's ready and in the right way." For now, they have opened signups for Nova's newsletter.
We have a roving reporter out at Fanfest, who'll tell us more about goings-on there over the coming days.