Everspace blasts out of early access blaring rock music
Perma-death metal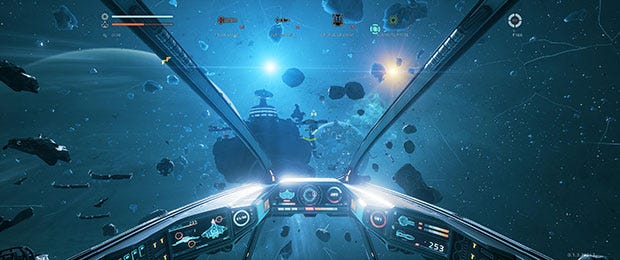 I like space ships. I like explosions. And, occasionally, I like rock music. So in theory I should love Everspace [official site], a space combat game that has just launched out of early access to its full release – at least if the trailer's anything to go by.
Thankfully I don't have to judge on the trailer alone: Alec tried the game out in early access last year and liked its combination of arcade dog fights and perma-death, but thought it could use more depth. Here's what he said:
"Right now, what there is of Everspace feels highly polished, but only really like the opening act of something ultimately bigger. It's got at least a chance of becoming the pop, whizzy, muck-about singleplayer space-battler that Elite Dangerous resolutely was not, and that Star Citizen might be too elaborate to pull off, but with no trading or what I'll nebulously call 'discovery' it also risks wearing thin too soon."
Since he played through it developers Rockfish Games have added more content, including a "fully voice-acted story featuring missions, cinematic flashbacks, and cut scenes". There's also VR support for the HTC Vive and Oculus Rift.
Whether that addresses some of Alec's criticisms remains to be seen. It's certainly very pretty, with lots of shiny ships and derelict outposts, and it's one I'll be keeping an eye on.
You can pick it up for £22.99/27,99€/$29.99 on Steam, GOG and the Windows 10 Store.
Check out the trailer below. If you've been playing it already then I'd love to hear how it's progressed since Alec penned his thoughts.