Evolved? Alien Breed: Impact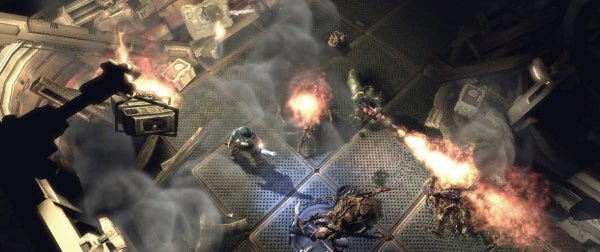 Alien Breed: Impact is the exciting, glossy name for the "heavily updated" version of Alien Breed XBLA remake Alien Breed Evolution that will finally make its way to the PC this summer. Team 17 have these words to say:
"Alien Breed: Impact is now tougher and requires more individual exploration than its predecessor. It features expanded customisability, with upgrades available for weapons that can be purchased using cash looted from corpses and lockers. If that isn't enough to whet your appetite, there are enhancements to the co-operative gameplay experience for you and a shooting buddy, not to mention the "Prologue" campaign, which takes players through an updated and expanded introduction to the world of Alien Breed."
Going to reserve judgement on this until we get our hands on it, but the original was a little disappointing - mainly because the co-op was rubbish. Hopefully "enhancements" will deal with that issue in a meaningful way.