Wakey Wakey: Old Alan Wake 2 Prototype Revealed
Rise and shine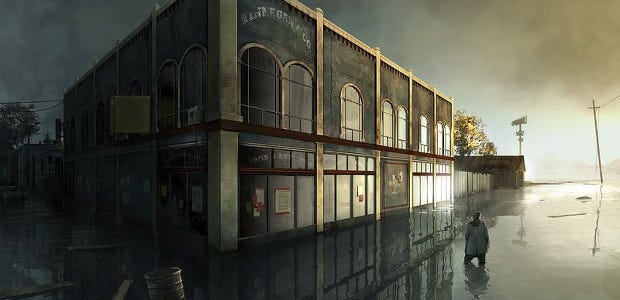 Remedy followed up their spooky-ooky shooter Alan Wake with the shorter, shootier semi-sequel Alan Wake's American Nightmare in 2012. Might a proper sequel, we wondered, follow next?
Well, no. However, Remedy had started prototyping an Alan Wake 2 soon after finishing the first game, and whipped up a fancy gameplay video to pitch to publishers. Thanks to the wonders of the Internet (and a Polygon interview), you can now watch thirteen minutes of the Wake that never was. Some of its ideas, you may notice, were later reused in American Nightmare. But is Alan Wake dead and gone? Oh, you never know, Remedy say.
Alan Wake 2 would've seen Big Al more accepting of his role as a chap who fights supernatural horrors by shining a flashlight at them and shooting them with bullets. Reality and fiction would blur more, and leading to a fine climax in the pitch video. Also stuff about him being a writer I guess.
His occupation would play into the sequel a bit more, through a slight puzzle system where Al would write what he wanted to happen next, then go around messing with his surroundings to match that and create a point for his self-insertion fanfic to merge with reality. The prototype pitch video shows a flashy set piece where he'd need to turn on some lights and start a car radio to match his story. I don't know why he couldn't write "And then angels killed all the bad guys and we won and my wife Frenched me it was hot" - I suppose reality is a harsh critic.
Anyway, look at this:
The game didn't come to pass, obviously, but some ideas were recycled for American Nightmare. As for an actual sequel, Remedy say it's one of the ideas they're tossing around for after they finish Xbox One exclusive Quantum Break. "Among other things," said Sam Lake, head writer and the wearer of Max Payne's face, "we are discussing the possibility of an Alan Wake sequel with multiple partners, but nothing has been decided."
The full feature's an interesting one, so do give it a look, even if only for the idea for a shadow demon bear.