F1 Manager 2023 coming this summer with more motorsport simulation
But will it be the pits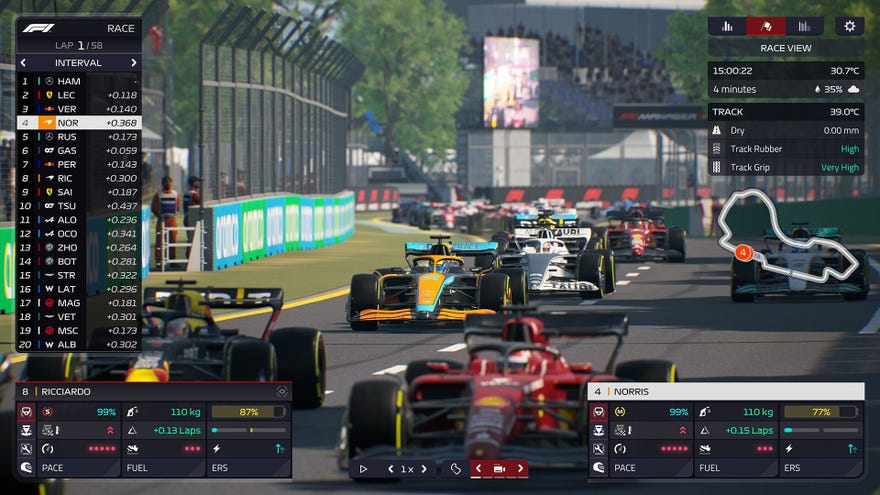 F1 Manager 2023 will cross the finish line this summer. Frontier announced the motorsport simulation sequel earlier today, with a trailer and promises that the new game would feature "deeper management systems, more dramatic racing, and an even greater commitment to authenticity."
Here's the announcement trailer:
You don't drive the cars in F1 Manager 2023, although you can view the race from the cockpit of your team's cars. Instead you make decisions about team and race strategy, from where to spend your R&D budget to which lap to pit during.
The sequel will simulate more parts of the race and your crew. Racing lines, overtakes, and on-track incidents have been "refined", and accidents on the track can impact your driver's confidence. Similarly, your pit crew can become fatigued and make errors during races. You can then try to address these issues by hiring a Sporting Director and creating a training regime for pit crews.
Career mode will return in F1 Manager 2023, but there's also a new Race Replay mode in which you can take control of a race from the 2023 F1 season and try to change its outcome through your own decisions.
F1 Manager 2023 will launch this summer via Steam and the Epic Games Store.
I never played it, but I heard F1 Manager 2022 was pretty good. It did spin-out at one point, however, when its developers suggested they were stopping updates two months after release. Frontier later called this the result of "crossed wires" and that several further updates were planned. It was indeed patched several more times and its final update was in December last year.