That Was Fast: Use Facebook In VR With Oculus Rift Novelty
A merry jape of an interface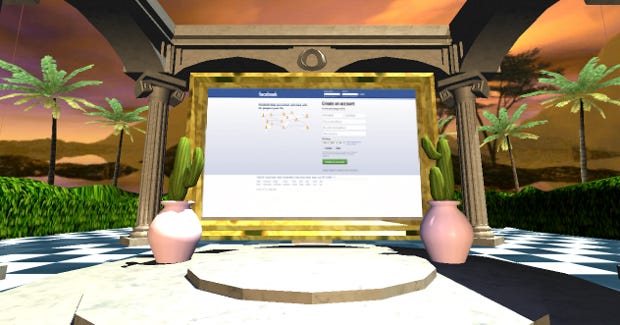 "SCROLL FACEBOOK...WITH YOUR FACE" it promises. "YOU'LL NEVER FACEBOOK WITHOUT YOUR FACE AGAIN."
Lacking mystical powers of prophecy (try as we might to guess the end of tonight's Eastenders), we can't yet see exactly what will be the fallout of Facebook buying Oculus and its Rift virtual reality goggles for $2 billion. However, thanks to GNAH! and Skipping Stones developer KO-OP Mode, we can now experience the majesty and wonder of browsing Facebook in VR. The wags behind have whipped together a vision of the future with Face It: It's Complicated, letting Facebookers into glimmering cyberspace to look at photos of their friends' children.
Should you have your own VR goggles, or extraordinary powers of going cross-eyed, you can download it for Windows or Mac from the website and wander around cyberspace using the arrow keys.
Here's a sample of Prosthetic Knowledge's adventures inside web 4.0: