What: Facebook Buys Oculus VR For $2 Billion
Now you can put Facebook on your face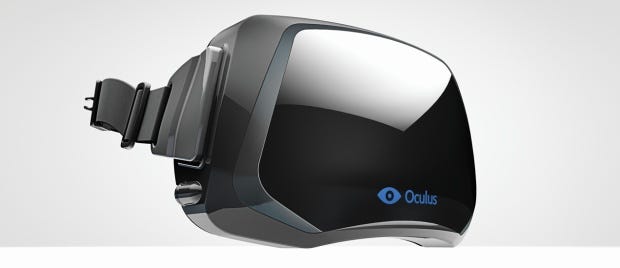 Update: Palmer Luckey has posted on Reddit about the acquisition, his perspective on Facebook's goals, and Oculus' continued relationship with the gaming world. "Very little changes day-to-day at Oculus, although we'll have substantially more resources to build the right team." Nothing about those pesky privacy issues, though.
Original story: It's not quite April 1st yet, so I guess this is happening. Oculus VR, the daringly sexy eyeware fashion company/hobbyist virtual reality outlet has officially been purchased by, um, Facebook, of all things. It sort of makes sense, I suppose, given that VR stands to radically alter the way people communicate from long distances, and that seems to be Facebook's focus here. Problem is, the social media goliath sent out a press release that's full of bits like, "mobile is the platform of today, and now we're also getting ready for the platforms of tomorrow" and hey wasn't Oculus Rift a PC gaming device at one point? Also John Carmack works for Facebook now, and that's just weeeeeeeeird.
Here are some pertinent bits from Facebook's press release:
"Facebook today announced that it has reached a definitive agreement to acquire Oculus VR, Inc., the leader in immersive virtual reality technology, for a total of approximately $2 billion."

"While the applications for virtual reality technology beyond gaming are in their nascent stages, several industries are already experimenting with the technology, and Facebook plans to extend Oculus' existing advantage in gaming to new verticals, including communications, media and entertainment, education and other areas. Given these broad potential applications, virtual reality technology is a strong candidate to emerge as the next social and communications platform."

"'Mobile is the platform of today, and now we're also getting ready for the platforms of tomorrow,' said Facebook founder and CEO, Mark Zuckerberg. 'Oculus has the chance to create the most social platform ever, and change the way we work, play and communicate.'"
MOST SOCIAL PLATFORM EVER. FROM THE DANKEST CORNER OF YOUR DARKENED BEDROOM.
Seriously though, virtual reality does present some incredibly fascinating, almost Matrix-like possibilities for communication, as I discussed with Oculus and CCP during D.I.C.E. And while having Facebook's bulging monetary muscle hoisting Oculus like in that one scene from Titanic won't hurt, it does mean Facebook will likely get to call some shots down the line. For now, though, Facebook CEO Mark Zuckerberg implied that Oculus will get to keep doing its own thing with games.
"Immersive gaming will be the first, and Oculus already has big plans here that won't be changing and we hope to accelerate," he wrote in - what else - a Facebook post. "The Rift is highly anticipated by the gaming community, and there's a lot of interest from developers in building for this platform. We're going to focus on helping Oculus build out their product and develop partnerships to support more games. Oculus will continue operating independently within Facebook to achieve this."
But that is apparently just the start, and Facebook's eye is very much on communication applications. Zuckerberg proposed examples ranging from attending a basketball game courtside to consulting a doctor to attending class. And you'll never have to leave your home. Hurrah? I am honestly not sure how to feel about those examples, but I suppose the hope is that one would take the VR magic carpet across oceans and continents - not to their village grocer, metalsmith, or alchemist.
There is also the issue of Facebook's sometimes rather dubious approaches to privacy, targeted advertising, and the like. I am not sure that's something I want bleeding over into my virtual reality - let alone defining the entire movement, given how nascent it still is.
At any rate, this is all still fresh and crazy. I've contacted Oculus with some questions, and I'll let you know as soon as I hear back. In the meantime, I hope they don't change the Oculus Rift's name to the Facebook Face.