Fallout: Autumn Leaves Is A DLC-Sized New Vegas Mod
Modders add DLC-sized expansion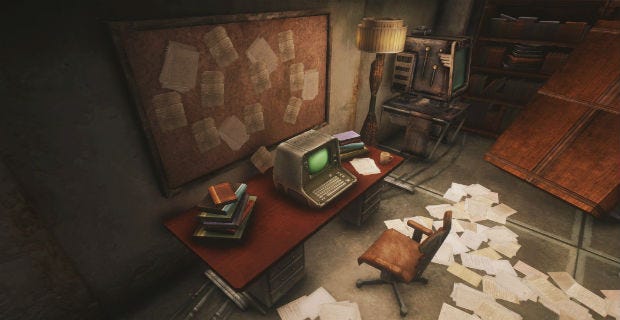 Desert-dwellers rejoice, Fallout: Autumn Leaves [official site] heralds a return to the post-apocalyptic Mojave in a mod similar in size to an official DLC expansion.
Inspired by previous Fallout installments, Planetscape: Torment and Arcanum, Fallout: Autumn Leaves dumps The Courier into Hypatia, a never before seen town just east of Novac. From here, he must once again scour the barren Desert Wasteland in a journey which, according to the mod's page, will last seven to ten hours all told. Check the trailer below.
"Walk the Mojave one last time, and discover a centuries-old library inhabited by sentient machines," reads the mod's official blurb-a-tron. "In this forgotten Vault, you will discover that you might not know yourself as well as you thought you did."
Expect 2000 lines of new dialogue in this campaign of self-exploration, not to mention 29 new perks, eight new quests with variable conclusions and a batch of different endings and slideshows along the way - the kind synonymous with Obsidian/Bethesda's official series titles. It's October already (ALREADY?!), but with a full month before Fallout 4 arrives at our vault doors, Autumn Leaves is here to bridge the gap and is out now.
Check out the typically profound, typically Fallout intro video here:
And whilst you're at it, check out this charming trailer too: