Fantastic Arcade Bundle Serves Up Dog Detectives And Frog Combat
Poop through obstacle courses!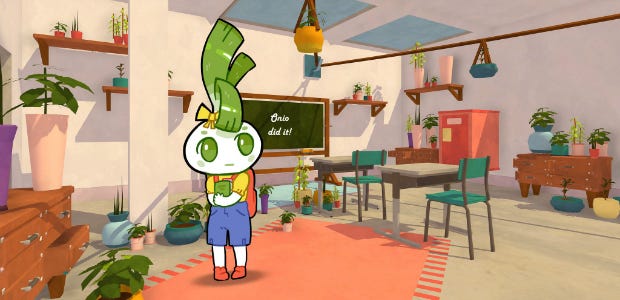 Got some extra cash to burn? Want to support the independent gaming community of Austin, Texas? Pick up the latest Fantastic Arcade Bundle, with five games from the festival hosted by game collective Juegos Rancheros. They include games from the maker of Downwell, the gang behind Bernband, and IGF winner Nathalie Lawhead.
This time around you'll get five very different games, each rife with their own quirks. One has an onion girl. Another still has frog guts. But they all have one thing in common: They can all be yours for $15 US or more, with all proceeds supporting Juegos Rancheros. That means more games from talented devs! And maybe visits to your city! Probably!
First up is Nium, a post-apocalyptic action game from Downwell creator Moppin and artist Nemk.
Next is Alphabet, from the wacky minds of Keita Takahashi (Katamari Damacy) and Adam Saltsman (Canabalt). You can explore obstacle courses with characters shaped like letters, but also the game description states you can poop through them, too. And when there's an option to poop, you should probably take it.
Klondike's Inspector Woof is just as adorable as you'd expect. You get to infiltrate a "veggie high school" to see what the terrible onion children are hiding. If you're lucky, you'll meet up with Chop Chop Master Onion and his disciples. But you won't be, because that character is copyrighted.
F2OGGY is described as a "Brute-Force Frog-Combat Simulator." Sorry, frogs. It could have been eels up inside ya, finding an entrance where they could, but developer Nathalie Lahead chose frogs. Instead, each player chooses a frog faction to lunge into the other and eradicate them. Probably. I think that's what happens when you refuse to dissect a frog in high school and make your partner do it instead.
Lastly, Sokpop's Lassos takes a page out of the hip-hop lyric book and has but one real descriptive phrase: "throw lassos, get money." Now that's a philosophy I can get behind.
You can nab all five games now on Itch.io for $15 US or more for Windows, Mac and Linux.