Fantastical Tinder sim Reigns: Her Majesty is out now
It's the politics that'll kill you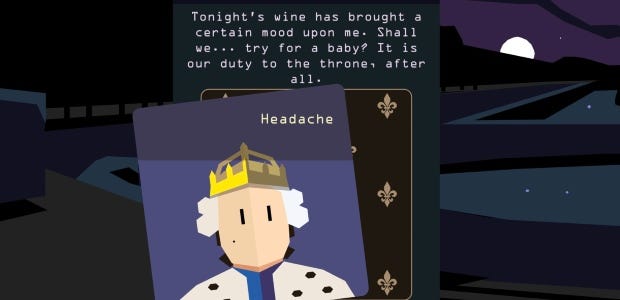 Nerial's Reigns is a simple (if strange-sounding) concept stretched to its absolute limits. Take the UI of dating-for-impatient-people app Tinder, and use it to steer the life of a monarch one meeting at a time, juggling political threats and multiple story-threads all through the simple, binary act of swiping left or right.
Today, you can get a second helping of this strange but compelling formula. The queenly sequel Reigns: Her Majesty is out now, promising an all-new story built around the now-familiar mechanics, plus a few new twists to the tale. Read on for details and the positively charming launch trailer.
Reigns: Her Majesty looks to bring a few new wrinkles to the formula. Nerial boast that there's significantly more content and story branches to the queen's story than the old king, and on top of that, there's more room for the player to make interestingly meaningful choices thanks to a third interaction option having opened up. It's not all swiping all the time now.
As seen in the trailer, you've got a third (or fourth, fifth or more) choice in many situations now - using an inventory of mystical and upgradeable artifacts to open up new routes through the story and find creative solutions to your problems. Although if experience (and the previous trailer for the game) is any reasonable indicator, turning your rivals into toads probably won't endear you to the clergy.
As with the first game, it's built to be replayed. Completing listed goals before your reign ends or your head rolls from your shoulders will unlock a new set of cards for your next playthrough, opening up new story arcs and options. With time, experience and a little intuition, your reign can be long and prosperous. Or interesting an exciting, at the very least.
Reigns: Her Majesty is available now via Steam, GOG and probably a few other places for a very reasonable £2.09/$3, just ten pennies more than the original game. For an extra dollar you can get a short comic detailing some of the mystical history of the world of Reigns, too.
Disclosure: Former RPS contributor Leigh Alexander is the narrative designer on Reigns: Her Majesty.