Fassassin's Creed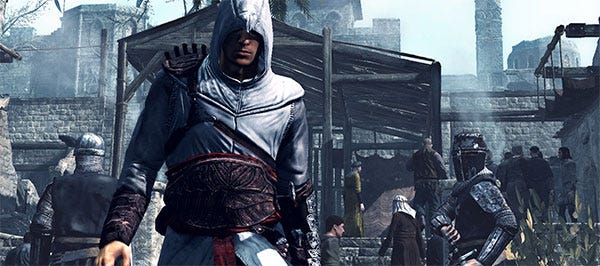 Here is a pattern:
- Action videogame is successful
- Movie rights are optioned by big studio
- Big star and/or director is attached
- ????
- Humdrum movie fails to make as much profit as hoped.
Assassin's Creed is next to be dragged to the blockbuster movie adaptation stocks, and none other than Michael 'only good thing about Prometheus' Fassbender is going to wilfully endanger all his good work of recent years by co-producing and starring in it. RPS has the first exclusive image of the film, which you can see below.

Looking good, Mikey. And he is of course no stranger to wearing semi-pointy hats, thanks to his role as the mysteriously half-German, half-English, half-Irish Magneto in X-Men: First Reboot a little while back.
While there have been talks with Sony's motion picture arm, Variety and its hilariously pointless missing prepositions style reports that Ubisoft hopes to make the picture somewhat independently in the hope of maintaining creative control. Presumably that means tons of Desmond and silly sci-fi drooling rather than just getting on with a neat historical action flick. (I really enjoy the Assassin's games, but I would mod out all the present day bits in a second given half a chance).
The news so far doesn't specify which time period the past stuff will be set in, though I bet movie execs wet themselves at the possibility for infinite sequels as laid down by the game series.
Poor old Michael Fassbender. Quite clearly, he should be James Bond, but instead he's going to be Jake Gyllenhaal.