F.three.A.R. "Soul King" Multiplayer Trailer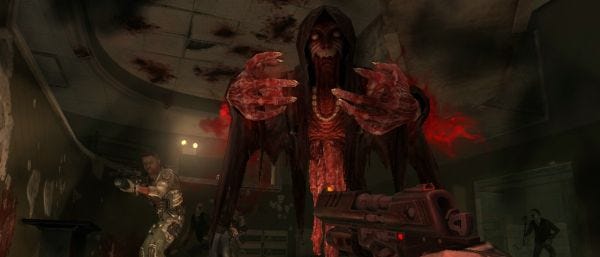 I know you. I've seen you around here before, right? You're that person who wants to see a FEAR 3* multiplayer trailer for the Soul King mode. I knew I recognised you! Come on in.
Soul King, the somewhat despondent-sounding narrator of this latest trailer explains, is "the most competitive multiplayer mode in FEAR 3." I'm not entirely sure what that means. Isn't competitiveness in the mouse of the beholder? Should we try less hard in other modes?
You begin as a spectre, and then possess a body you want to fight with. Then it's a competition to see who can kill the most enemies, and thus gather the most souls, and be titled the Soul King. So a bit like Pokemon, but with more claws. The possession mechanic sounds fun.
Why so sad, Mr Narrator Man? Someone give him a hug.
(Maybe he's sad because he couldn't think of a way to work in a "soul king"/"sulking" joke either.)
*Look - they're lucky I can be bothered to capitalise it, really. I grew fed up with typing in all those fullstops at some point in around 2003. Let alone replacing the e with a 3, as if I'm twelve. Putting both in one title? Just honestly.