Five Nights At Freddy's future includes more free, VR, "AAA" and movie scares
Almost enough to put us off pizza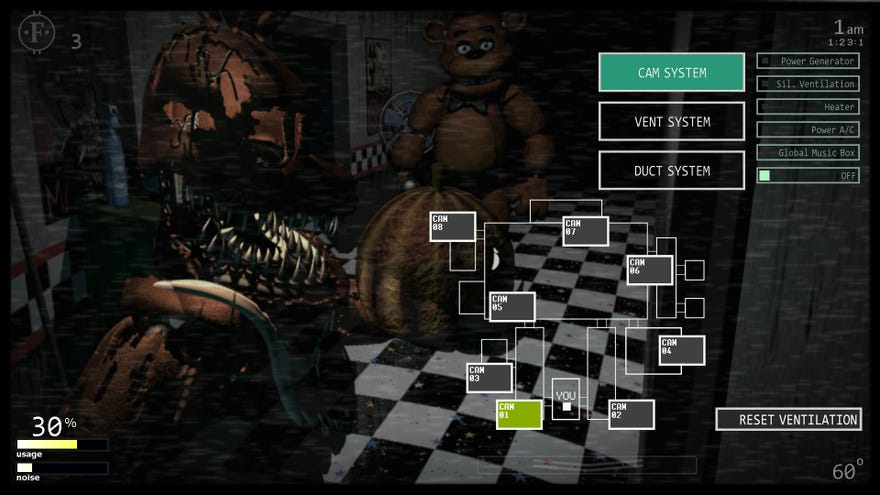 There's a long, dark future ahead of Scott Cawthon and his Five Nights At Freddy's series. In a blog-post on Steam today, the creator of the teen jump-scare horror phenomenon announced everything he could speak about regarding the future of the series. There's an upcoming VR game made in collaboration with Steel Wool Studios, an Augmented Reality game (presumably only for phones), and a new free game planned called FNAF: Into Madness currently on the drawing board, but still, nice of him. Plus, a big-budget game, although still also only in the planning phase.
I admit that I love the sound of FNAF in VR. Cawthon mentions a sequence where you're trying to repair an animatronic. Given that anyone who has played these games knows being in the same room as one of these things is practically as good as being dead, that's going to be especially nerve-wracking then you're elbow-deep in its mechanical guts. Steel Wool have some experience with VR games, with them currently working on Warhammer 40,000 board-game to VR adaptation The Horus Heresy: Betrayal At Calth, but a tactile horror game seems far more challenging.

Ultimate Custom Night went some weird places. Credit to "ZAMASU" for assembling this.
As for the free game mentioned, Into Madness, it's great to see him doing more stuff 'just for fun'. Even after the series became hyper-popular and likely profitable beyond his wildest dreams, Cawthon has continued releasing smaller games for free. The most recent was Ultimate Custom Night, a seemingly messy mashup of all the challenges in the series to date, but (as is the nature of FNAF) also acts as a spooky, fractured epilogue to the series so far. The fact that there's more free stuff planned while he's working out a 'AAA' FNAF game with a larger studio is rare indeed.
Cawthon's talk about the upcoming FNAF movie (to be directed by Harry Potter and Home Alone's Chris Columbus) actually gives me hope for it. For starters, Cawthon himself is writing the script for the film. Not so unusual when you consider he co-wrote the official tie-in novels with the help of Kira Breed-Wrisley, but unheard of for a game adaptation. Also, despite writing an early script that Columbus was happy with, Cawthon wasn't, so decided to scrap it and rewrite from scratch. He's also reining himself in, and limiting it to the slightly less bananas FNAF 1-3 timeline.

Thankfully, most of these clowns won't be in the movie.
It's all very convoluted, perfectly in keeping with the series. I just hope Cawthon isn't overworking himself, as he's apparently got film, novel and multiple game projects going simultaneously. Even if third-party studios are doing the heavy lifting on some of that, it's still an incredible workload. Weird to think that (according to legend/Kotaku) were it not for critic Jim Sterling skewering one of Cawthon's earlier games for looking (unintentionally) creepy, then FNAF might never have happened. It's like a butterfly flapping its wings, resulting in someone decapitated by a robot bear.