Football Manager 2016 Reveal: Create-A-Club And More
Out November 13th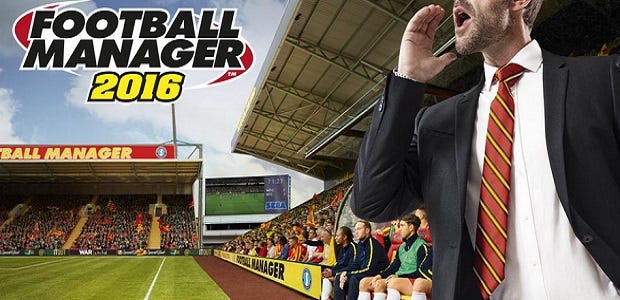 As soon as club football starts again after the summer drought, my mind turns to the next iteration of Football Manager [official site]. In an ideal world, it'd be released to coincide with the first kick of the season (for me, Bury away at Doncaster on August 8th) but with the late closure of the transfer window and (maybe) the need to check that Memphis Depay isn't a figment of Louis Van Gaal's imagination and that Falcao isn't going to Do A Lazarus.
It's done when it's done, and this year that'll be November 13th, with a beta available around two weeks before that date. Along with the usual improvements, updates and tweaks, there's an intriguing new game mode - Create-A-Club - and loads more.
Annual updates shouldn't be exciting but as I've explained in the past, I get a real kick out of watching the evolution of Football Manager. Sometimes it feels like one step forward, two steps back, sometimes it sort of shimmies to the side, and sometimes it takes a big leap forward. Last year was, in the parlance of fans and pundits, a year of transition. Everything was in place and Sports Interactive were doing most of their work behind the scenes, and on the Handheld and Classic side of the game. For those who haven't been keeping notes, Classic is a stripped-down version of the full simulation, streamlined and designed to allow players to progress through their career with minimal fuss.
That Classic mode has been renamed to Touch this year, due to its presence on high-end tablets as well as PC. Saves will be cross-compatible, which means you'll be able to play while you're on a train or train, or stuck in a hotel room. I mention those three things specifically because I often find myself in those situations and without any means of Football Managering whatsoever.
Touch mode will be included with Football Manager 2016 on PC, although you'll also be able to buy it standalone on tablet and even on PC if you don't fancy the full version. No word on price yet. I don't have a list of compatible tablet devices yet but last year, it was iPad Air 1 and 2 or Mini 2 and 3 on the Apple side. I'd tell you the Android side as well but the page that listed the supported devices has been taken down (or buckled for some reason) in the last couple of hours. Maybe to renew with details of the new version.
It's the full-fat simulation that I want to know about though. The Create-A-Club mode appeals immediately for two reasons. First of all, I've spent hours in the editor trying to make my own club in the past and it's always ended in disaster as I end up modifying leagues to accommodate my newcomers and break the entire sport. The second reason is tied to my love of the simulated world - I feel uncomfortable inserting myself as a manager, particularly as that often means I have to bump an actual manager out of his job. I often start the game unemployed, which avoids that problem, but I'd love to do the full FC United experience, starting with a new club at the bottom rung and working toward glory.
For the first time, Football Manager 2016 allows fans to add their own custom-built club to any league they choose, through the single player 'Create-a-club' mode. Create-A-Club allows you to name the club, add yourself and a friend to the line-up, edit the squad to your heart's content and even choose the colours.
I'll making a team full of RPS folk and characters from my favourite films and games, because that's how I roll. Good to see that the team can be inserted into any league as well - I'll probably limit myself to the lowest levels but I can see the appeal in starting at the top.
There's also a Fantasy Draft multiplayer mode, in the form of a mini-league in which squads must be built from scratch. I can see myself enjoying that, even if it's not what I expect from the series at all. I can't find anyone who'll commit to a full career multiplayer year-long session but it'd be fun to try out some multiplayer in condensed form.
The weirdest addition is described as "manager on the touchline".
Get closer to the action than ever before with your own customisable character to bark out instructions and join the celebrations from the touchline.
I did not know I wanted this but I definitely want this. It's the sort of thing that might irritate people who think the resources and time spent on it could have been used to improve the AI's approach to the transfer market, but I see it as the sort of flavoursome addition that takes me one step closer to Football The RPG, a mythical game that I often dream about in which it's possible to be a player, a manager, a coach, a referee or Sep Blatter.
And there are, apparently, improvements to AI in areas of team-building, transfers, board requests and team talk reactions. Other major additions include Prozone match analysis integration, which could be one of those Big Leaps Forward if it works as well as I'm hoping. Prozone is a real-life sports analysis company and if the collaboration comes off it should provide a much better set of feedback for individual and team performances. A lot of work has gone into making injuries more realistic (and that doesn't mean they'll necessarily happen less frequently).
Finally, there's a set-piece creator, expanded press interaction, a brand new stats screen and "all-new rolling stats panel" (shut up, I am honestly excited to see that), improvements to the 3d match engine and multi-match highlights packages. That last thing is something I've wanted for years - essentially a Match of the Day style round-up of the games from a specific round in a competition. Imagine being able to watch highlights of every Champions League group game? YES.
Sorry. I'll get my (sheepskin) coat.
*all screenshots are work in progress.