forma.8 Looks Rather Lovely
Probing news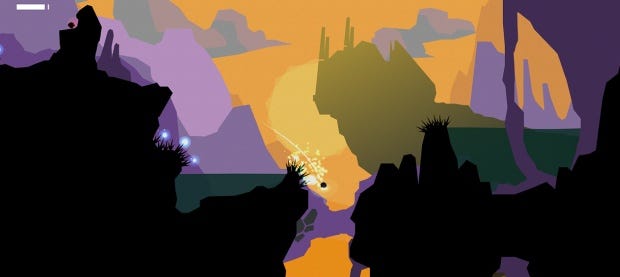 I'm a sucker for silhouettey foregrounds, colourful backgrounds, it's true. Which is likely why my brain-eyes were immediately drawn to forma.8. They stuck around for the intriguing-looking 2D exploration and splatty combat of a little floating probe.
Even better, it's aiming for Metroidvania-style play, and there cannot be enough of these. A small exploration probe is stuck on an alien planet, with a life or death mission he's duty-bound to complete. He's looking for an energy source, but what he finds are ancient alien civilisations, angry enemies, and we're told, exciting secrets. It looks really rather pretty:
They're promising that the game will offer a sense of open freedom from the start. Of course, the sort of freedom that's cunningly restricted by Metroidvania barriers, I hope. They're rather boldly - for a two-man indie team - aiming to release the game on not just PC/Mac/Linux and iOS, but also PS4, Vita, and Wii U. (Take that, Xbox One.) Although a release date isn't yet given.
However, it will be playable at this year's Rezzed in the Leftfield Collection. And of course there's a Greenlight.