Former GTA boss unveils MindsEye, a new "blockbuster" available in Robloxlike Everywhere
Everywhere is Leslie Benzie's not-blockchain content creation hub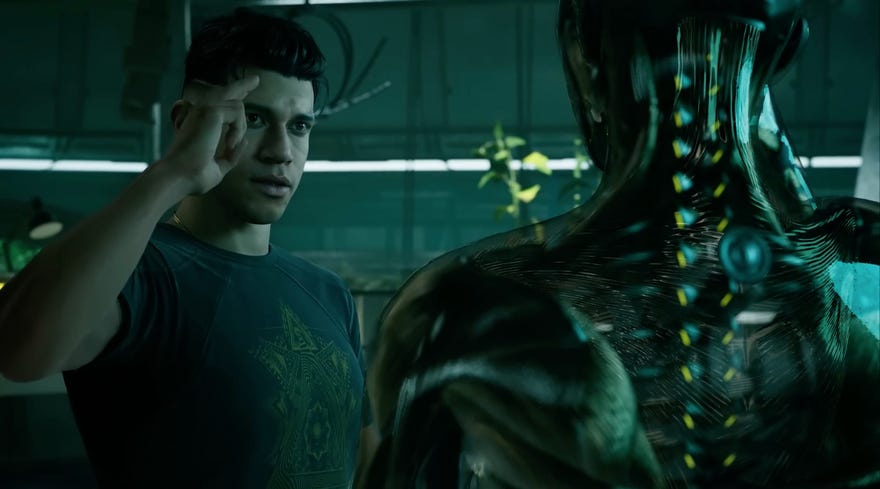 Everywhere (not to be confused with Everything) was a big fat question mark at last year's Gamescom Opening Night Live. It comes from Build A Rocket Boy, the studio founded by ex-GTA boss Leslie Benzies, and despite its cryptic reveal trailer, AliceB theorised it was some kind of Robloxlike. Turns out her hunch was correct - Everywhere is a platform that allows players to create their own custom content. To show off what the tools can do, Benzies and the team unveiled MindsEye, an episodic "blockbuster" adventure available inside Everywhere. A game set inside a game, if you will.
The reveal trailer for MindsEye shows off some third-person action that doesn't look dissimilar to a GTA setpiece, and it also features some proper mocap faces. The protagonist, in particular, looks oddly like Mafia 3's main man Lincoln. Maybe they share an actor. There are some driveable vehicles too, but apart from that? The whole thing is almost as nebulous as the reveal.
Speaking to Eurogamer, Benzies says that "Each of the episodes will be of a different type of gameplay," and while they'll all be loosely connected, "they take place in lots of different time periods and parts of the universe." The team say they have plans to take content from MindsEye and let us tinker with it in Everywhere. Apart from that, the team were apparently tight-lipped about monetisation and release plans.
While MindsEye is technically very impressive, the project's longevity will come from Everywhere as it looks to supplant content creation experiences like Roblox or Fortnite Creative - which itself is levelling up hugely. But on top of some Unreal Engine-powered creation tools, Everywhere also sounds like it's trying to be the next metaverse, even if the team isn't keen on that terminology.
In a metaverse-esque sense, Everywhere is the platform. Then inside Everywhere there's Utropia - said to be a large 3D space that you can walk about with your own avatar. The hub will have portals leading to user-created mini-games, different biomes to explore, and areas designed to host digital concerts or video premieres - similar to Fortnite's musical collabs.
Everywhere's actual content creator is called Arc-adia, letting you build experiences using pre-made assets you acquire from the hub, Utopia. Players, or builders, can then turn their created bits into "Arcs" allowing others to use them, edit them, and spread the creativity. Apparently, you can buy Arcs using an in-game currency, which is eyebrow-raising news for a platform that has digital shopping centres, too.
Who knows how MindsEye will fit into any of this. Maybe we'll take our avatars into those aforementioned portals, only to pop into a sci-fi GTA campaign. Everywhere sounds quite hazy, in general, and I reckon we won't have a clear picture of how it all works until we've seen the hub, the content creation, and the final experiences in-game - whatever in-game means anymore. At least Everywhere isn't being built on the blockchain, for now. Everywhere still has a release window of this year, and the official site is still barren - but it has two teaser trailers now.