Wipeout-inspired racer Formula Fusion released
Zoomo!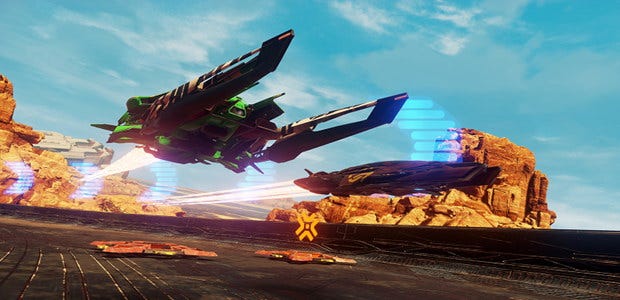 Wipeout-inspired hovercars raced out today with the full launch of Formula Fusion [official site]. It's anti-gravity fight-o-racing game with swish cars whipping around futurecities and blasting each other, with both a singleplayer campaign and ten-player online multiplayer. Formula Fusion hit Kickstarter in early 2015, smashed into early access in August 2015, and now is finally out in full. Watch these hovercars go fast:
So! It's the future and driving fast is fun. Lots of cars decided that driving fast together was fun, so they started racing. Then I guess one got narked off and grew some guns. That's where we come in. Formula Fusion packs futuristic fighty racing in five customisable futurecars on eight tracks (plus day/night/reverse variants) across six modes.
The singleplayer is about starting from the bottom, unlocking extra tracks and buying extra cars as you build up towards racing an opponent named The Beast.
R8 Games are lead by Andrew Walker, a chap who was on the art team of Wipeout 3, and they have also drafted the Wipeout style lords at The Designers Republic for "design and lore".
Formula Fusion is £14.99/19,99€/$19.99 on Steam. I see some of the initial post-early access reviews are grumbling about poor performance, no tutorial, and a lack of polish - things I'd hope a long early access phase would iron out. Some other players seem to be having a ball, though.
The developers do plan to keep supporting Formula Fusion with updates and new content. R8 Games say their future plans include adding more languages, support for in-game voice chat, and free extra cars, tracks, and modes.