Fortnite's sixth season kicks off on September 27th, now with a bouncy lake
Feeling jelly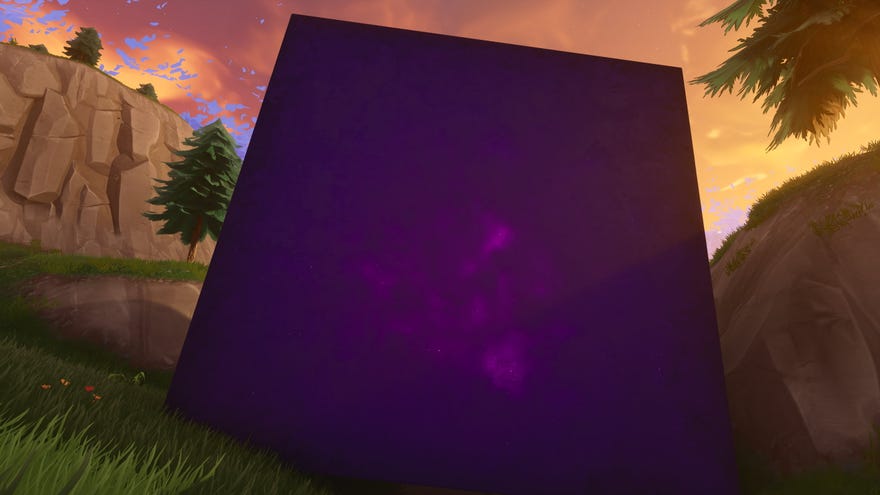 The mystery of the giant bouncy cube that once rolled across Fortnite's plains is solved, just in time for the battle royale mega-hit's next season of costumes, live events and gunshootery, starting on September 27th. Plus, there's a 400% match XP event running through the weekend, starting now.
It turns out that the probably magical purple block rolling across the land was an oversized bit of jelly [jello -USA Ed.] concentrate. After wobbling into Loot Lake, it dissolved and the large mid-map body of water was converted into the world's largest and tastiest bouncy castle. Below, a video of the lake's transformation captured and tested live by YouTuber "I AM WILDCAT".
Before, you would take damage if you shot the cube and regain shields if you lurked around near it. Now, only bounciness remains, but across a much more entertaining scale. Water in Fortnite isn't interesting, but an entire bouncy battlefield crackling with runic magic is. Not only does it make you a predictable but tricky target to hit, but it's also a surface you can fall onto from a great height (say, a recently rocketed tower) and survive. Vehicles can also be ridden across the surface to rack up enormous stunt combos. I'm kinda hoping the bouncy lake stays that way forever now.
I'm not even sure if Fortnite seasons have 'themes' anymore after the superhero-themed season 4 ended with reality itself getting sucker-punched by an interdimensional spacecraft. That's probably for the best, so long as Fortnite keeps this anything-goes angle going, we get more stuff like the Valkyrie skin and matching Frostwing glider. Yes, they look like they've wandered in out of World Of Warcraft, but not every game has to make sense. Especially not one where people ride a flying bus into a hybrid architectural improv showcase and last-man-standing deathmatch.
A Frozen Forewarning

The new Valkyrie Outfit and Frostwing Glider are available now! pic.twitter.com/Qh9gMJecvp

— Fortnite (@FortniteGame) September 21, 2018
A new season means a new Battle Pass soon, which means the old one is going away. If you've still got a few more levels to grind through before you can complete your current crop of skins and dances, now is the time. Announced on Twitter and running from now until September 24th, 8am Eastern Time (noon GMT), matches are paying out 400% the regular XP - last one to the bouncy lake's a noob.
Still trying to get to grips with Fortnite? Check out our Fortnite guide hub for more tips and tricks for the game. You can also find the latest challenges in our Fortnite week 6 challenges guide.