Fortnite Battle Royale throws birthday party for some game named... Fortnite?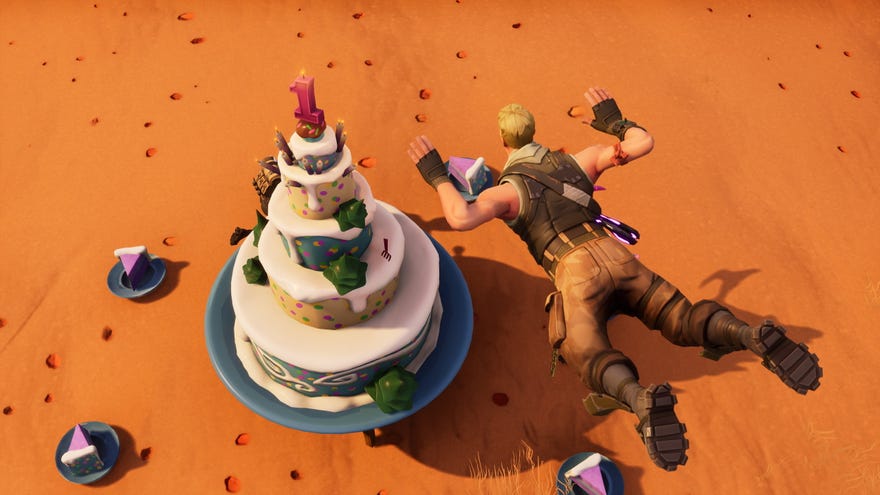 Birthday cake and decorations are yours to grab in Fortnite Battle Royale following today's update, in celebration of the first birthday of... hang on, FBR ('Fibber' to its friends) is only nine months old. What is this? It seems those scamps at Epic Games are pretending the birthday is celebrating something called 'Fortnite: Save The World', which is a hoax game name if I've ever heard one. No matter, cake power-ups can be scoffed around the island and Fortniters can unlock a set of birthday cosmetics by completing challenges. The sandbox event mode Playground will return from tomorrow too.
Today's version 5.1 is less dramatic than the last big update, which desiccated a marsh and built a golf course, but in terms of things wot do new murders, it does add a new gun. The Compact SMG is basically an FN P90, a gun perhaps best known from Counter-Strike and Ghost In The Shell, and can be found here in Epic and Legendary rarities. It has a 50-round capacity, deals 23-24 base damage using Light Ammo, and will make you look at least 70% more anime.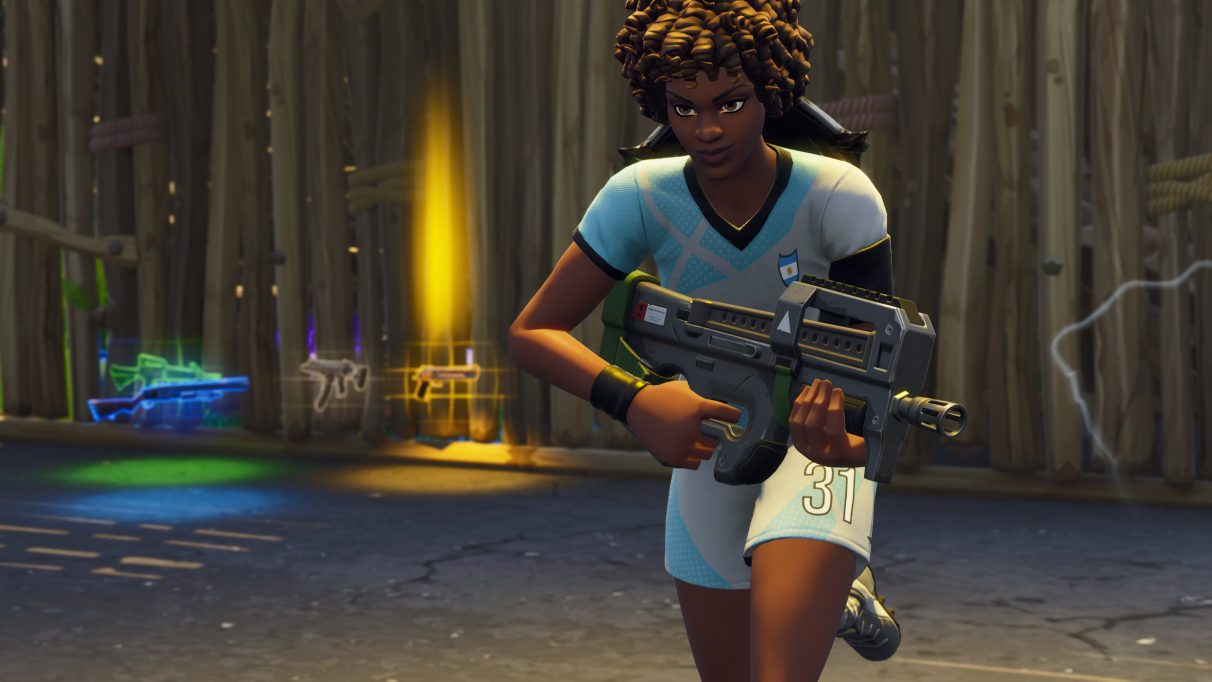 It is still weird that Fortnite's style has superhero suits, ramshackle shedramps, rideable shopping trolleys, knights, vikings, a fish swimming around the bowl of a water-filled spacesuit, ramshackle buildings, silly corporate mascots, oh so many colours, and real-world weapons. Weird.
The v5.1 patch notes detail a rebalancing of supply crates, outright removing some weapons and items from them and adjusting drop rates of the rest. Wood buildings are a bit weaker now, stone buildings start out weaker, and metal walls actually become a bit stronger. The wait time on many storm circles is redyced and all. It'll be interesting to see how these balance tweaks combine to reshape the game. And sprinting is now on by default.
As for birthday pretties, players can unlock a birthday cake backpack by completing three birthday challenges - which each have their own rewards too, XP and emoji and a spray. The challenges are mostly to play Fortnite--play 14 matches, deal 1000 damage--but one that'll take effort is dancing in front of every giant birthday cake across the map. Look for ballons indicating a cake nearby, murder anyone who'll stop you from enjoying the cake, then pull shapes. Pre-cut cake slices around them can be instantly munched for five health and five shield points too.
The bus is very ready to party as well. How it can like to party so much yet not be the Vengabus is beyond me.
Folks who bought the Founder's Pack for access to that mythical 'Save The World' can get some ugly skins in Battle Royale now as well.
As for Playground, it's due to return for another limited stretch on Wednesday the 26th. Changes in its latest incarnation will include chucking in more supply drops, more ammo, more items, more Chug Juics and Slurp Juices, more bounce pads, a quicker respawn timer, those new golf carts... all the stuff you need to dick about in construction and murder for an hour. It's adding the option for players to change teams too, for those who fancy skirmishing.
Fortnite Battle Royale is free-to-play through Epic's client. Fortnite: Save The World, if such a thing exists, still costs money to play.
Still trying to get to grips with Fortnite? Check out our Fortnite guide hub for more tips and tricks for the game. You can also find the latest challenges in our Fortnite week 6 challenges guide.