Fortnite golden balloon locations: where to pop the golden balloons
There are just a few more weeks of Season 7 of Fortnite left, but there are plenty of challenges out there. Most recently in week 9, some golden balloons have been hidden throughout the map. This guide has all the locations of the golden balloons, as well as details on how the balloons work.
Fortnite Golden Balloon location guide
Please note that this page is for a challenge that is no longer active in Fortnite. For a full list of currently active challenges, please go to our Fortnite week 6 challenges page.
With the game being the global sensation that it is, there's a lot to learn about not only getting that all-important "Victory Royale", but also the changes to the map as the seasons progress, and the challenges you can seek to complete. Head over to our Fortnite guide hub for every single thing you need to get started. Alternatively, you can head back to our Fortnite week 6 challenges guide for an overview of all the weekly challenges for this Season in Fortnite.
All the golden balloon locations
One thing of most importance to note is that the golden balloons only last until someone shoots them. They're a bit like the fireworks from earlier in the season, in that once they're popped, they're gone for the rest of the match. You'll then need to find more balloons or start a new game to try again.
Though you only need 10 of these to complete the challenge, there are plenty more than the required number to finish. We've so far seen enough of them to give you detailed locations of where to find them, and there are plenty to go around. Let's begin with...
Fatal Fields
In Fatal Fields, there is a golden balloon towards the centre of the area, floating on a windmill. The windmill is surrounded by barns and fields and is a bit of a focal point for the region, so you shouldn't really miss it.
Tomato Temple
Towards the western wall of the ruins, close to the cliff that hangs over the region, there is a balloon nestled within the stones. It can be a little hard to spot, but a closer look and a well placed shot will eliminate that balloon.
Dusty Divot
This one is hidden towards the middle of Dusty Divot. It's on the southern side of the building with a white curved roof and not too far from the air-conditioning unit outside. This one may take a while, but if you look towards where the grid references cross on the mini-map, you should be able to find it.
Retail Row
South-east of Retail Row, there is a small hill with a statue of a bear close to the base of it. It will now be holding the golden balloon, so this one should be an easy one to find.
Frosty Flights
This one is just by Frosty Flights's runway. Look at the sign that says "R3 M5-47" and you should see it hanging on top of it.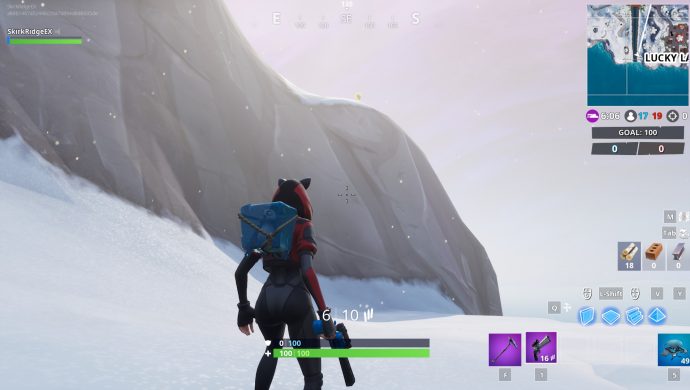 Lucky Landing
This one might be a little hard to spot, but look to the cliff to the east of the lake and it is on top of it. It's west of Lucky Landing and is hanging on its lonesome.
Cave west of Happy Hamlet
This one is even harder if you don't know about the cave with a hole leading into it. Just to the west of Happy Hamlet is this cave with a hut in it. Look inside and you'll see the balloon with a bear holding it. Shoot it and move to the next one.
Haunted Hills
An easy one now. Just head to Haunted Hills as the match starts and look at the church. It's on the roof of the church and can be shot down from outside.
Pleasant Park Motel
Yep, there's one here too. Where the sign has a nice big hole in it, close to the letters O and T, there is a balloon hanging here. The motel is just to the north-east of Pleasant Park.
Lazy Links River
Head to the river west of Lazy Links and go as far as the sea. You'll see a small hill on the west with a big rock, which has the balloon hanging from it.
Wailing Woods wooden tower
The last one we know about is to the north-east of the map. It's by the wooden tower and can be shot at from afar, though it is a little hard to spot if you aren't diving in on the location.
This concludes our Golden Balloon guide, but there's plenty more challenges to complete in Season 7. Week 9 also brought with it a time trial challenge, which we have found the two best time trials to complete in order to finish the challenge. You can find out which two in our X-4 Stormwing Time Trials guide.