Furi gives a helping hand with new 'Invincible mode'
Don't get furious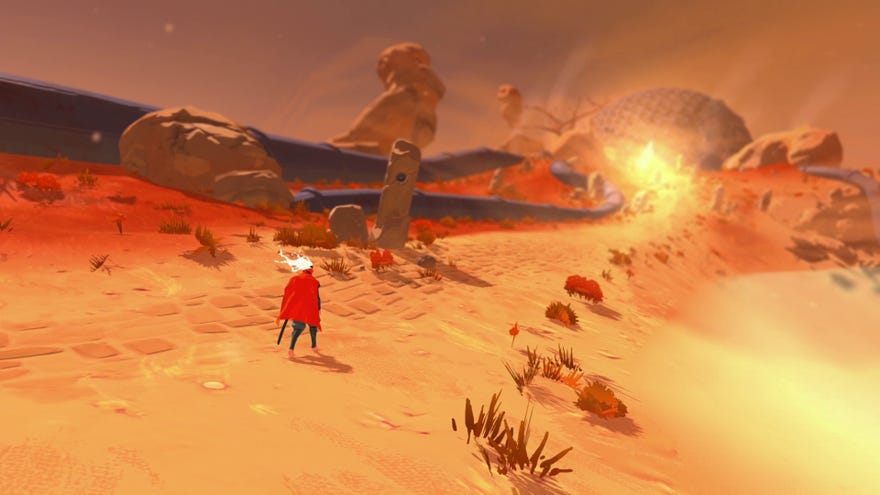 Boss battle bonanza Furi has added new tools and difficulty options that will help players at both ends of the skill scale: those who want a hand getting past certain sections; and those those who want to play certain parts so damn much to polish their speedruns.
"I want to be able to beat Furi so effectively that it stops fighting back but, like the freaky foes it contains, outwitting it will only cause it to transform into something even more devious," our former Adam (RPS in peace) said in his Furi review and if you find that tantalising yet slightly offputting, mate get on this. It's going cheap on sale right now too.
The newly-added 'Invincible mode' is "a set of commands that can be used to become invincible, skip a fight, skip or lock a certain phase in a fight, or weaken a boss", developers The Game Bakers explain.
"The feature can be used in Story mode by players who want to focus on the narrative and audio visual experience without worrying about the challenging fights. It enables players to skip completely a boss or just a difficult phase. But it can also be used by experienced players to practice their skills, in particular by speedrunners looking to improve their time on specific combat phases."
As well as invinciblity, it has options to skip through battles, weaken the boss, skip through phases of battles, and stay locked into particular phases. For pr0s, they've also added a new control scheme option which they say "helps dodging or parrying while shooting/slashing."
If you too fancy running the gauntlet of oh so many big boss battles, hey, a 60% discount on Steam brings Furi down to £6/€8/$8 until 6pm (10am Pacific) on Friday. The game is sold on GOG too but still full price there right now.
Furi has found a few speedrunning fans, ending up being played at the Awesome Games Done Quick speedrunorama event in 2017. Here's that run: