Fus RohnoyoudiDahn't: Super Skyrim Bros.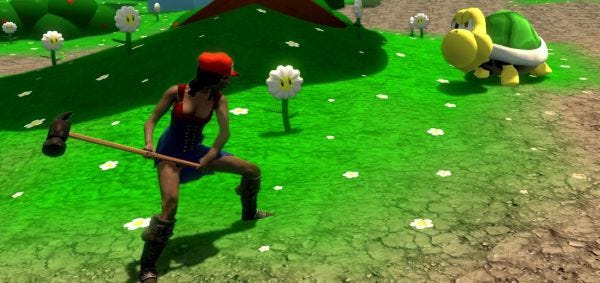 They did. They absolutely, utterly, completely modded a new world into Skyrim that's based on Super Mario. Super Skyrim Bros. adds a new instance into Skyrim, so you at least won't be converting all of Bethesda's chilly wastes to the blocky nightmare you see here. Just a corner of it. A nightmare of question mark blocks, coins, Goombas, Koopas, secrets, and even Bowser. Want to see it in action? You'll need sunglasses and a quiet room to lie down in after. I'm about to hit my sofa and hide under some cushions.

It's accessed via a new house near Winterhold. Enter it and you'll be dragged into the Mushroom Kingdom, to fight Mario's enemies. In there you can collect new weapons based on Mario's skills, like the Staff of Fire Flower and the Staff of Koopa Shell, but you're also welcome to splat the Koopas with any of your Skyrim powers. You know the one I'm talking about.
You'll probably note it's a bit shonky looking, but it's worth it for the experience. Just like sky-diving in the nude, roller-coasting in the nude, and the naked running of the bulls. So strip off and enjoy.