Galactic Princess, Ultimate General, 48 More Greenlit
That adds up to... wait, no, hold on. Ummm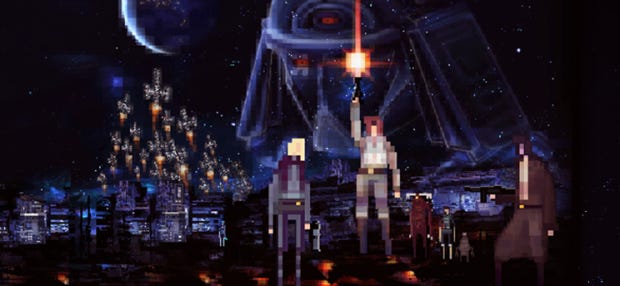 The infernal Greenlight machine rolls on, devastating the environment and breaking hearts without missing a beat. It doesn't care what gets in its way. It knows only one pursuit: middling-to-popular indie games. Its main fuel source? People. Well, their votes, anyway. And also some arcane fusion of press reviews, crowdfunding successes, sales on other platforms, angel dust, kitten tears, and a signed copy of The Who's greatest hits album. But hey, I can't fault the system's invisible, probably mutant hand for selecting the likes of Galactic Princess, Ultimate General: Gettysburg, Hover: Revolt of Gamer, and Woolfe: The Red Hood Diaries. The full 50-strong batch is below.
3... 2... 1... GAAAAAAAAAAAAAAAAAAAAAAAAAAAMES:
Adventurer Manager – [VA]StrikeS
Aperture Tag: The Paint Gun Testing Initiative – Motanum
ARC Squadron – BurstableDave
Battlepillars – Jonathan Peppers (Hitcents)
BeamNG.drive – BeamNG
Blockade Runner – Alpha
BloodLust : Shadowhunter – WRF Studios
Cinders – MoaCube
Circuits – Tentacle.
Colossal Kaiju Combat (Kaijuland Battles) – Sunstone Games, LLC.
Crea – Siege Games
Creeper World 3: Arc Eternal – Knucracker
Daina: The Herbarium – Daina The Herbarium
Danmaku Unlimited 2 – doragon.sunnytam
Dark Shadows – Army of Evil – Burian Media Games
Dead Effect – Shissa
Dwarf Quest – Wild Card Games
Eterium – stardockalpha
Fields of War – harel.jann
Foosball – Street Edition – yuisygames
Galactic Princess – Chmyke
GhostControl Inc. – ASHGAMES
Gloria Victis – Jog
Hidden – Lost Spell
Hover : Revolt of Gamers – Midgar Studio
Interstellaria – coldricegames
Krita – Digital Painting – KO GmbH
KRUNCH – LeGrudge & Rugged
The Last Cargo – Ehnenu
Life is Feudal – Life is Feudal
M.A.V. – Modular Assault Vehicle – mav
Millennium 1-2-3-4-5 (full series) – Aldorlea Games
Path of Shadows – Lince Works
Perennial – Badspot
Pixel Detective – FrostyFoxGames
Pulse Shift – 3 Core Studio
Saga of Pandoria – Dieblein
Sapience – peterfunnell
Splatter – gnarf
StarCrawlers – Juggernaut Games
SuperPower 2 – Nordic Games
T.E.C. 3001 – PhoenixGameStudio
Toy Defense F2P – Melesta Games
TRI – Rat King
Ultimate General: Gettysburg – Game-Labs
Ultionus: A Tale of Petty Revenge – DarkFalzX
Uprising44: The Silent Shadows – m.dziwniel
Warring States Tactics – Kaelic
A Wizard's Lizard – Lost Decade Games
Woolfe: The Red Hood Diaries – Wim Wouters
That is a list, sure as shoot. I'm from Texas, so I'm allowed to say things like, "sure as shoot." Anyway, this batch is once again a soup of blah, bleh, and bl-- hurrah! In addition to Galactic Princess and Ultimate General, standouts include hyper-customizable mech sim M.A.V., cel-shaded stealther Path of Shadows, low fantasy MMO Gloria Victis, and crashy crash driving game BeamNG.drive.
So, who's pleased with these additions? And, more importantly because the Internet is for complaining, what did Valve miss this time around?