Program deathbots to play sportsball in Gladiabots, out in early access now
But can you teach them to dunk?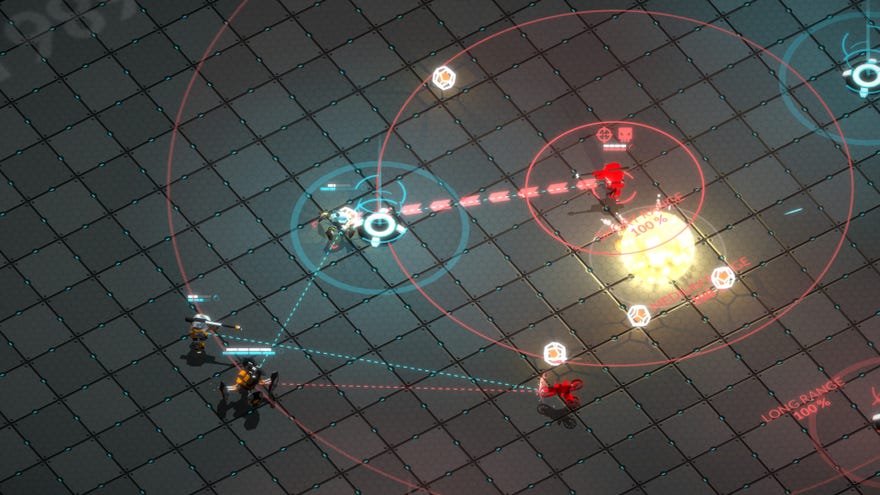 If, like me, you're too rubbish at coding to get anywhere in Exapunks (won't stop me from trying though), but love the idea of programming a swarm of robot minions to do your bidding, then Gladiabots might be for you. Released into early access on Steam today, it's a game about using visual flowcharts to program the AI of a team of heavily armed robots. Your goal: Either blow up the enemy team, or play a successful round of ball-dunking sports in amidst the hail of gunfire. The future sounds like such a fun place.
While the thought of programming AI may be daunting, Gladiabots doesn't force you to sweat the details. By using simple, visual commands like 'approach closest enemy' and 'fire at X range', you build up simple conditional chains of actions that play out from left to right, if several are in parallel. It feels simple at first, but you're soon juggling multiple unit types and objectives, all the while making your AI versatile enough to adapt to changing situations. It's initially accessible, but unfurls into something very complex once you start playing cyber-sportsball.
The current early access version of Gladiabots feels 'complete' already, from what I've played so far. There's a tutorial and 60 solo missions, plus full asynchronous online play. Once you've programmed your best AI team, you can challenge others to matches. If your team wins, you rise up the ranks, and people can challenge your uploaded squad - it's a bit Gratuitous Space Battles in structure. Over the next 3-6 months (as developer GFX47 estimates), co-op multiplayer, new game mechanics, playmodes and AI parameters will be added to the mix, fleshing it out more.
Gladiabots is out now on Steam and Itch for £12.14/€13.49/$13.49.