Glitchspace Looks Way Smarter Than Me
10 GOTO ARTICLE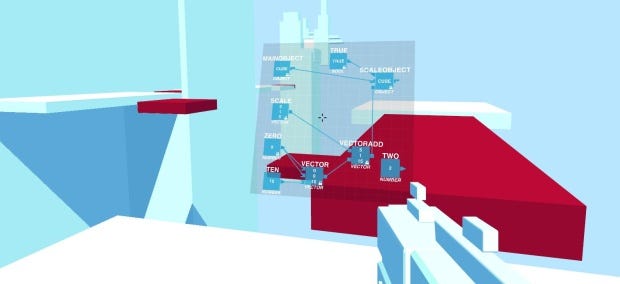 First-person puzzling is a genre there can never be enough of, and Space Budgie's Glitchspace is adding itself to the gang. Immediately visually reminiscent of InMomentum, this isn't so much about speed, but more - well - reprogramming the platforms to allow you to achieve your goals. It's best that you watch the video.
Having had a play of it, it really is as involved as it looks. Right clicking on any glitching red object gives you access to the object's programming, and allows you to amend various aspects. As someone with the programming knowledge of a log this is immediately challenging stuff, even if at first you can only make very minor changes. But then, it's all the more satisfying to make a platform bouncy when it wasn't before. The issue with the game right now, in an alpha 1.1 stage, is that it's not trying to teach me why what I changed made that difference. But then, this is very early stuff, and it's fantastically solid already.
The game is currently available in alpha from IndieGameStand, itch.io, and Gumroad, for $4.99/£2.99, and on Greenlight for what I would assume is a fairly guaranteed spot on Steam.