Glutton For Punishment: Don't Starve Expansion Released
Goose-moose on the loose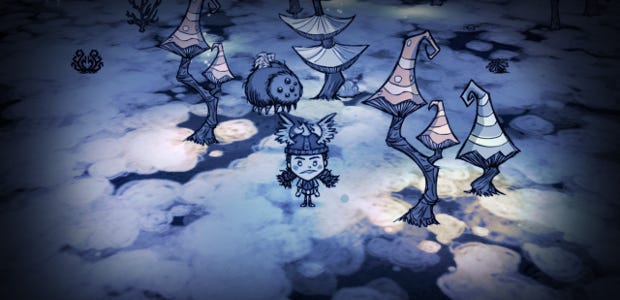 Fee-fi-fo-fum! I smell the beta of an expansion! Honking great giant beasts are now stomping merrily around Don't Starve as its expansion Reign of the Giants is out in beta on Steam Early Access. No, I hadn't realised DLC could be released that way either.
As one would expect and fear from an endless nightmare where the only release is sweet merciful death, Reign of the Giants adds a few more survival tools but mostly new ways to die horribly.
To quickly rattle off a list of new features, expect extra seasons in the form of rainy spring and scorching summer, new items, biomes including a desert, friendly creatures, and hostile animals. It also brings another two playable characters, a boy inside a spider who's chummy with arachnids and a method-acting carnivorous Valkyrie. The eponymous giants, by the way, are terrible chimeras such as a goose-moose and badger-bear.
Reign of the Giants will run you £3.19 on Early Access, knocking a grand 80p of its official launch price. Klei plans to add a little more to the expansion and bash out bug fixes during Early Access, just as it did after the base game's beta launch.