Gnomoria Defies Name By Leaving Early Access
Early Access no more-ia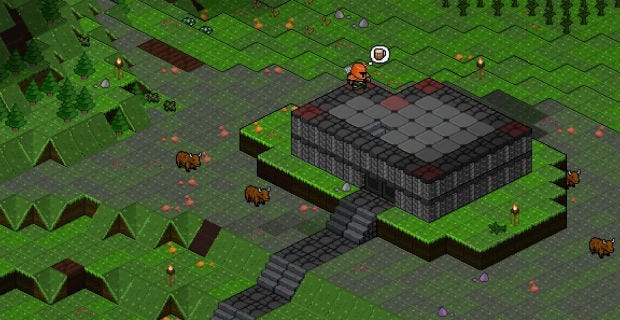 Gnomoria [official site] is a sandbox village management 'em up that tasks you with helping a group of outcast gnomes on their way to building a kingdom/gnome utopia. After a few years in Early Access, and a few years development prior to that, it's now launched itself into full release and I surely can't get to the end of this intro paragraph without mentioning its spectacularly puntastic name. Lovely.
Inspired by games such as Dungeon Keeper, the Settlers series, The Sims, and of course Dwarf Fortress, Gnomoria follows a team of gnomes who've been ostracised by wider society simply for being different. They're out to start new lives and it's on you to aid their quest by way of overseeing the construction and development of their new settlement.
In typical city builder fashion, you'll source shelter, water, food and defense measures; and will train citizens in a variety of occupations - including military ranks to fend off goblins and other unscrupulous visitors - so as to ensure the evolution of their new surrounds.
This is a few years old now, but here's an alpha gameplay trailer with developer commentary so as to see how the basics operate in practice:
Developer Robotronic Games have issued a steady stream of updates throughout the game's development, each including a bundle of fixes and tweaks, not least version 1.0. I've dabbled in Gnomoria on a couple of occasions over the course of its development span and have had fun, however I've not had the chance to dive into version 1.0 just yet. That said, it does seem to have gathered some pretty nice reviews over on Steam.
Gnomoria is out now on the Humble Store for £10.99 and on Steam for the same price.