GOG's Summer Sale opens with a Xenonauts giveaway
Out of this world deals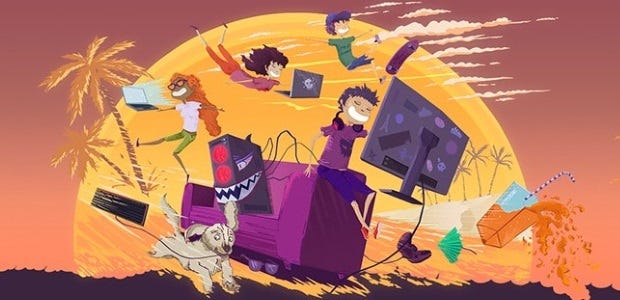 Maybe my perception of time is getting a bit wonky in my old age, but didn't we just finish Spring Sale season a week or two ago? No matter - cheap games are always in style. GOG's summer sale opens with a giveaway of Goldhawk Interactive's solid X-Com tribute Xenonauts. GOG also asked us to pick a few favourites from the sale, so check out our list on GOG.
Xenonauts may have a slightly drab exterior, but under the grey and beige lies the heart of 1994's X-Com: UFO Defense. Good for armchair commanders that want something a bit more granular than Firaxis's modern XCOM reboot. Plus, it's a good way to dust off the cobwebs before Phoenix Point fully drags the formula into the 2010s.
As has become customary for GOG, there's free bonus games for spending money during the sale. Those who spend £3.59 (presumably equivalent to $5) get a free copy of Failbetter's nautical (but nice) post-Lovecraftian ocean adventure Sunless Sea. Coincidentally, Vampire: The Masquerade - Bloodlines (another of RPS's recommendations) just happens to cost exactly that amount to the penny. Spend £14.19 ($20, by my approximation) and you get gorgeous puzzler Rime, too, which John gushed profusely over here.
As underrated as Bloodlines is, I wouldn't recommend playing it without Wesp5's incredibly extensive unofficial patch, which updated again just this April. My personal recommendation from the RPS Collection would be deliciously amoral isometric mech-shooter Brigador. While I'd not normally recommend upgrading to the Deluxe edition of a game, I will here because the slightly more expensive edition comes with the absolutely stonking soundtrack and an audiobook, which is compelling stuff if you like sci-fi mech-war stories.
Alice says you should all buy Far Cry 2 (also on our shortlist), because - and I quote - "p.s. Far Cry 2 is the best one". I cannot argue with this statement. Odd coincidence that it's also a game about being an amoral mercenary bastard. It's a far more focused and thematically consistent thing than more recent games in the series. Far Cry 2 is bleak and oppressive and not especially fun in the most traditional sense of the word, but it's the closest we've had to a Heart of Darkness game to date.
The GOG Summer Sale continues until June 18th, although the Xenonauts giveaway ends in under 48 hours, so snap that up while you can. Plus, there's a new set of GOG Connect games you can copy over from your Steam account - again, time-limited.