Green Grow The RUSH Is O-ut Soon*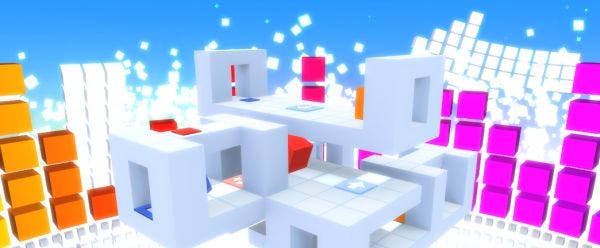 Kieron had big love for this year's Toki Tori, a fiendish puzzle game by indie developers Two Tribes. They've got a new game that's due out in two days, and just received a debut trailer: RUSH. It's a puzzle game, but completely different from their previous game. This time it's a 3D cube-rolling affair, which at first glance made me think of the iOS game Edge (the one that suffered from Tim Langdell's impotent attacks.) But it quickly becomes apparent that it's not the same at all. It's about guiding multiple blocks to their targets, creating paths for the perpetually moving cubes. And from the trailer below, it looks pretty lovely.
The game was inspired by the Rubik's Cube they say, although requires no such colour-matching twistiness. The big, colourful blocks, however, are reminiscent. And indeed (although it's a little confusing on their site) it appears to be an official Rubik project. The Wii version, which seems to have disappeared now, was called Rubik's Puzzle Galaxy: RUSH. The PC version that definitely exists, however, is just RUSH. I think.
As they enter the final hours of development for the game, Two Tribes have written about that process, with a tour of their office in the last mad crunch. Which is a fun idea.
The game will be on Steam this Friday, at 10% off for the first week (if last month's press release is to be believed), with a full price of $5 or €4.50. (No GPB price is available yet.) You can find its Steam page here, although it's oddly blank.
Do check out this trailer. It looks gorgeous.
*Sorry.