Halo Online mod ElDewrito is in trouble with Microsoft
Is it me you're looking for?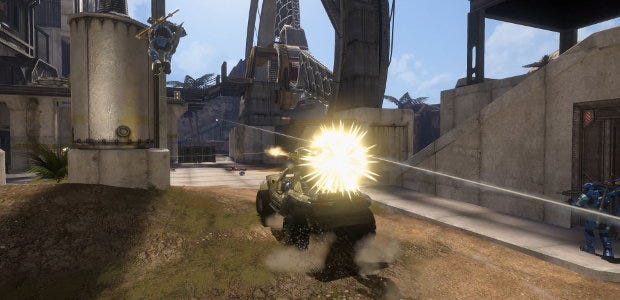 The future of ElDewrito, a Halo Online mod expanding and improving that cancelled spin-off into what Dominic Tarason called "the best PvP Halo experience you can find on PC today", looks grim after Microsoft's lawyers got involved. The problem, the Halo overlords say, is that ElDewrito violates Microsoft's rights by using Halo Online content. The ElDewrito team are uncertain about what this means, and while it seems Microsoft at minimum don't want them to distribute the mod any more, it is still playable.
ElDewrito, see, is built upon--and includes--bits from Halo Online. That was a multiplayer-only free-to-play version of Bungie's FPS being made by 343 Industries and Saber Interactive for the Russian market, which ended up cancelled before even leaving closed beta testing. But Halo Online leaked, got passed around, and became the foundation for ElDewrito. The mod may be open-source, but it's still sharing MS's stuff.
"While we are humbled and inspired to see the amount of passion poured into this project, the fact remains that it's built upon Microsoft-owned assets that were never lawfully released or authorized for this purpose," 343 Industries said in last night's announcement.
"As this project reverberated across the community, our team took a step back to assess the materials and explore possible avenues, while Microsoft, like any company, has a responsibility to protect its IP, code and trademarks. It's not optional in other words."
They stress that the Halo Online assets aren't free to use.
"With Halo Online, there's a common misconception that once it was canceled, the assets were either turned over as 'open source' or left for the community's whims as 'abandonware' – neither of which is actually true. Not only did Microsoft issue takedown notices at the time of the original leaks, but many elements of that underlying code and content are still actively being used today and will continue to be in the future."
The ElDewrito team are unclear on what all this means for the future of their mod.
"All we know is that have been told to temporarily halt development until more information is available, and we must honor this request," the modders said in response last night. "There was no Cease and Desist, no DMCA, just an brief conversation about what they suggest we do."
They say it's likely that Microsoft will try to have downloads containing their assets taken offline, such as the ElDewrito client. That'll be an endless game of cat and mouse, I'd imagine, with fans slapping downloads back up around the place as others go down. But ElDewrito servers are still going, and people who have it can still play it. For now, at least.
"What does this mean for the future of ElDewrito?" the mod team ask themselves. "To be completely honest, we do not know the answer to this question yet. Our conversation with 343 was very brief."
343 Industries hinted yesterday that they were "very excited about the prospects of an official classic Halo experience making its way to PC" and hoped to talk to the ElDewrito team and other community creators "to help inform the types of experiences and features our fans desire." But those are only warm words at this point, without anything announced to back them up. The last Halo FPS round our way was Halo 5 Forge, a standalone version of the game's multiplayer editor mode, but we've not seen a full game in a decade.