Have You Played... Gravity Ghost?
Fox snogging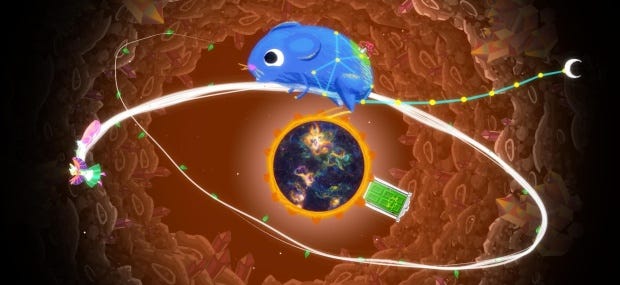 Have You Played? is an endless stream of game retrospectives. One a day, every day of the year, perhaps for all time.
Gravity Ghost [official site] may be a cutesy-cute looking game, but beneath the very lovely prettiness is a rather smart physics puzzler with exceptional use of orbits.
It's unashamedly cute, too. You're a girl called Iona (seriously, look in the mirror) who has magic hair, reuniting the spirits of woodland animals with their remains, and collecting magic stars. But rather than become twee, it instead offers a really splendid challenge, where you must learn to manipulate orbits to guide your character, while using your powers to change the nature of the planets around which you loop.
Eventually you're using the vortexes of super-dense stars to smash through planets you've just turned to glass, dodging fiery rocks and rescuing tiny frogs. You know the sort of thing. And while I didn't love the story, the voice acting from Ashly Burch is some of the best I've ever heard. It's all very lovely, and well worth a look.