Have You Played... Regular Human Basketball?
Robo-dunks are the best dunks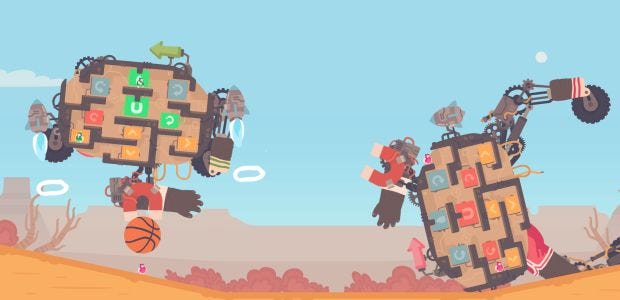 Have You Played? is an endless stream of game retrospectives. One a day, every day, perhaps for all time.
Regular Human Basketball is totally a game about normal humans shooting some hoops in an authentic bout of bipedal basketball.
What's that? You're saying those are actually giant mechs equipped with jetpacks, magnets and retractable legs? No Sir, not here. Nuh uh.
If you've played Lovers in a Dangerous Spacetime, then you'll recognise the central conceit of controlling a machine by jumping around inside it to reach the controls. The actual game is simple: pick up the ball and get it into your opponent's goal.
It's easier said than done.
The game's best when played in groups of four or more, where efficient communication and coordination are key to victory. Of course, what that normally boils down to are screams of, "Why are we still moving left," and, "Oh god no don't activate the jetpack now." You can even leave your mech and try to infiltrate your opponents' to sow extra confusion, although you'll get kicked out pretty quickly.
It's free, and one of the funniest local multiplayer games I've played. If you have access to at least three other regular humans, then go ahead and grab it from Itch.io.