Regular Human Basketball whirrs out
Beep hoop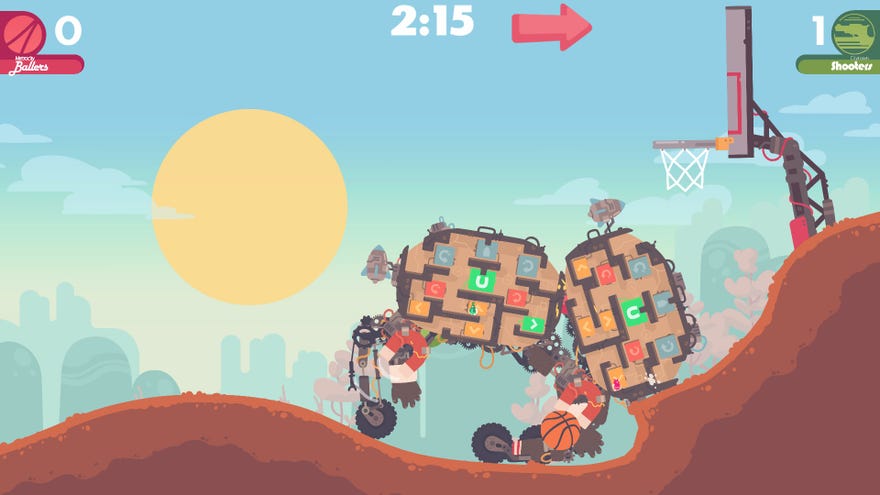 Ahh basketball, noblest of sports. Is there a more blessed sight than that of a regular human rocketing through the air? A more magnificent act than the perfectly timed activation of a magnet, a more majestic occurrence than a player toppling to the ground atop their retractable legs?
There is not. The expanded Steam version of Regular Human Basketball just came out, and offers some of the most fun you can have with your perfectly normal human pals. A prototype has been out since 2015 and the core of the game remains unchanged - except now there's online multiplayer, which I'm hoping will propel it to the popularity it deserves.
The Steam version also includes six arenas, a new soundtrack and a revamped look, though the main selling point is not needing to trudge into the same room as other people to play it with them.
I've only dipped my (mostly) regular toes into this new version, but I've played loads of the free version that Powerhoof released three years ago. It's a simple game of basketball, only instead of playing the players you play as the folks running around inside them. And those players have magnets and jetpacks. Whisper it, but *looks both ways* those guys aren't actually humans. They're giant mechs with their systems awkwardly hooked up to buttons around their body, making this a game of tactics over reflexes.
Unless you play it with more than one person on each team, which you absolutely should. Then it becomes a game about chaotic miscommunication, and the king of the 'working together under pressure' genre. The devs wanted to capture that element of Space Team, a fantastic mobile game about spouting sci-fi gobbledygook at your friends in order to not die on a spaceship, and combine it with the fun frustration that stems from the awkward controls in QWOP. They succeeded.
It's basically a competitive version of Lovers In A Dangerous Spacetime, but with dunks rather than guns. These are cumbersome and fiddly machines, which makes the rare moment when a team actually pulls off something elegant feel all the more rewarding. Though if you want to just dick around knocking your opponent's mech over - or jumping into it and pressing every button you can reach - then that's cool too. It's equal parts hilarious and thrilling, and cheap enough that I can't imagine you'll regret buying it.
The new version of Regular Human Basketball is available on Steam or through Itch for $5. You can also still download the free version, which is on the Itch page too.