Heart Of The Swarm Pencilled In For Q2 2012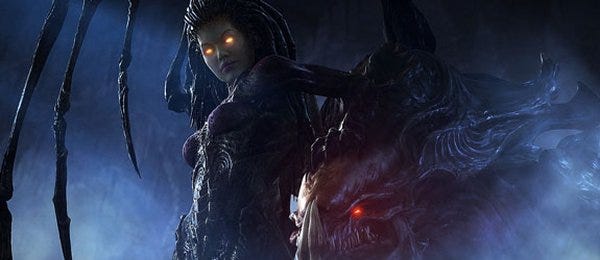 Battle.net project director Craig Canessa mentioned at GDC Online yesterday that StarCraft II's first expansion, Heart of the Swarm, is at least 18 months away, which is a lot of months. Take your current age and add 1.5 years to it. That's "at least" how old you'll be when Heart of the Swarm comes out, with its new single player campaign and new multiplayer content. Won't you be a little old for games then? It'll be time to pack it in and buy a Renault Twingo, surely. Might as well bookmark this now.
The original StarCraft got Brood War within 8 months, in case you were wondering. Anyway! Click past the jump for the highlights of Blizzard's new developer diary, including balance changes planned for the next patch.

Basically, more good news for Zerg players like me. The post says that Zerg are only played 23.5% of the time in 1v1 game matches, which Blizzard don't think is a good sign. BEHOLD:
• We're increasing roach range. This will allow roaches to be more effective in large groups, giving the zerg more options in the mid to end game.

• Fungal Growth will now prevent Blink, which will give zerg a way to stop endlessly Blinking stalkers which can be very challenging to deal with in large numbers.

• The Barracks are going to require a Supply Depot, which will impact a lot of early terran reaper pushes.

• The reaper speed upgrade will require the Factory, which is meant to weaken a lot of the early terran reaper attacks that dominate so many matches, especially in team games.

• We're making a number of increases to the health of zerg buildings, which will make the very vulnerable zerg technology structures more resistant to raids. We don't expect these hit point changes to have a super significant impact on the game, but the current numbers felt way too low.