Here Comes The Hotstepper: One Step Back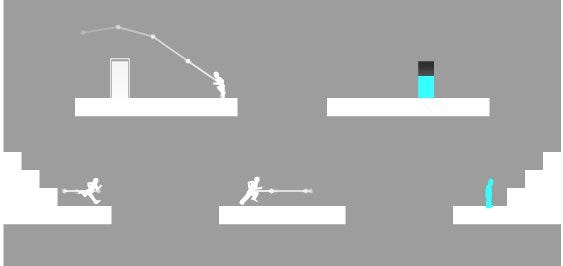 Sweet. The Master of Savy points me in the direction of One Step Back, which is another crisp arty platformer. Its "thing" is that a few seconds after you begin a level, a duplicate of yourself starts to ghost your path. Then a few seconds later, another follows. And another. If you collide with any of the ghosts, you die. The aim is to get to an exit - which only opens after a time limit. In other words, it's about navigating a route which allows you to avoid your previous paths long enough. Helpfully, like that-bit-in-Braid time only flows when you're actually moving. While its iffy wall jump is the main form of frustration, I found this a really lovingly designed shortform game, even before it hit its half-way change-of-pace. Do give it a try. And now, here's the heavy-heavy-monster-sound of Madness...


Though go for Ini Kamoze if you really must.