Heroes Of Might, Magic, & Anything Else: Project Awakened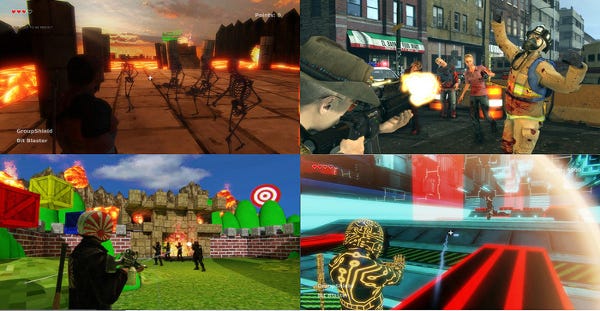 Bald space marines! They're pretty great, huh? Always shooting aliens and misplacing their hair everywhere. But in case that pinnacle of videogame characterization wasn't doing it for you, Phosphor Games is hoping to offer more. Way more. Way, way, way, way more. As in, pretty much anything you can imagine. The basic idea behind Project Awakened is that you get a nigh-bottomless pool of superheroic powers and looks to mix and match in whatever manner you please. These, for instance: "An invisible hero who can charm enemies to fight for her. A non-violent hero with super speed and agility racing past enemies to the goal. A man who spontaneously combusts at will and touches everyone to incinerate them." OK, well, that last one is the Human Torch, one of the most well-known heroes of all time. But the others seem fairly unique. Video and details after the break.
Here's the basic idea behind the game, which can also be summarized using this video:
"Project Awakened contains a modular powers and skill system that allows players to select from a huge number of abilities and combine them in unique ways. Unlike other games which use a class system or skill trees, Project Awakened leaves every choice and ability up the player. Likewise, players will have the opportunity to completely customize the appearance of their characters. Comical or serious, rough or polished, nearly any character imaginable can be created using the Project Awakened Player Creation system. The result is a game with seemingly limitless gameplay and replay potential based on which abilities players choose."
Moreover, heroes can run the gamut from "comical to serious," and robust mod support will (hopefully) ensure that the same goes for levels. A built-in editor, however, is currently only a stretch goal, because Phosphor's shining a beacon into the sky for that most mighty and righteous of all heroes - money - to swoop in and save the day. It's asking for $500,000 on Kickstarter, which seems reasonable enough, given that stuffing every power ever conceived into one game might be a teensy bit expensive.
Obviously, it's an absurdly gigantic promise. But Phosphor's made up of vets from the teams behind Midway's Psi-Ops and Stranglehold, so they at least know telekinesis and doves - two of the most potent super powers of all. And honestly, psychic dove warfare is all I've ever really wanted from games anyway. Meanwhile, Phosphor's apparently spent the past couple years working directly with Epic on Unreal Engine 4, so the final product will likely have most of the graphics - if not quite all of them.
I'm certainly interested, if only because this has the potential to be a bigger, even more ridiculous Prototype. My main concern is that it looks pretty shooty at the moment, but it's also still relatively early. And honestly, I say more power to developers who focus on potentially game-breaking, well, powers. Stuff like Dishonored, where the basic mission statement is "We made this meticulously constructed world, but you know, go wild. Figure out cool things we don't even know about. BREAK EVERYTHING." Quantity over quality concerns notwithstanding, Project Awakened certainly stands to take that idea to new heights. Unless, of course, you choose to make Subterraneman, the world's first eyeless mole person superhero. But honestly, at that point, you're just being facetious.