How to install extra case fans
Keeping it cool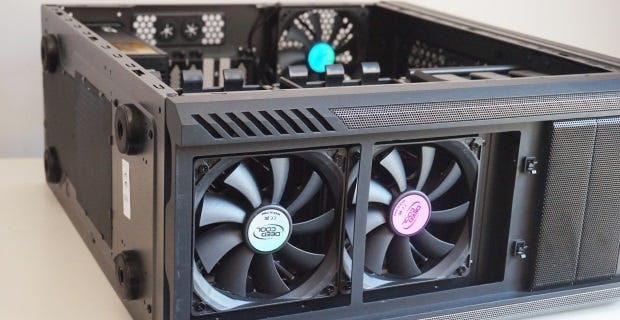 Welcome back to our How to build a PC guide. With your motherboard and power supply now firmly in place, it's time to get those fans going. Most cases these days come with a few fans pre-installed - usually one at the front to bring cold air in and one at the back to throw hot air out - but adding more can be useful if you want a PC that runs cool and quiet.
If you think your case already has enough fans, then by all means skip ahead to the next step: How to install your CPU. For everyone else, it's time to take all those extra fans you bought for a spin. Where you can place your fans will very much depend on the shape and size of your case. Normally, you'll find mounting points on the back, front, top and side (the inner side of your side panel), but sometimes you can also fit one in the bottom - although it's really only worth doing the latter if your PC's going to have a bit of clearance between it and the floor. Otherwise, it will just draw in dust and dirt and do your PC a mischief.
Step 1: Fans can only push air in one direction, so positioning them correctly is crucial to creating an effective airflow inside your case. Sometimes fans will have arrows on them telling you which way the air will go, but otherwise it will flow out of the side where the spokes are. If you're not sure, check the fan's instructions.
Step 2: Once you've decided where to put your fan and positioned it the right way round, you'll need to screw it in. These may come with the fan itself or you might find you've got some leftover in your case's accessory box. Just remember you'll probably need to clean your fans at some point in the future, so don't screw them in too tightly, or you'll never be able to get them out again.
Step 3: If you're installing more than one extra fan, then rinse and repeat the above instructions. To help optimise your airflow, it can sometimes be helpful to have more exhaust fans than intake ones, as this will help draw in more air from other holes and gaps in your case in addition to what your intake fan's doing.
Step 4: Once you've finished securing your fans, it's time to connect them to your motherboard. Most of your fans will have either three or four-pin connectors, so you'll need to look for the corresponding headers on your motherboard. Your motherboard's instruction manual should have a diagram of where they all are, but what you're mainly looking out for are the following labels:
If you've accidentally bought too many fans for the number of headers on your motherboard, then you may want to consider buying a fan extension card - although, again, make sure your motherboard actually has a EXT_FAN header before you get one. If you want to install an all-in-one water cooler (which I'll cover in a separate step), then you'll need to look for a specific AIO_PUMP header.
Otherwise, it doesn't really matter which fans you stick where - usually, it's just a matter of connecting it to the closest header available. Just make sure you don't stick a fan connector into the CPU-FAN header, because you'll need this for your CPU cooler.
Speaking of which, it's time to learn how to install your CPU. Onward!
Contents:
How to build a PC guide
How to install a power supply
How to install a motherboard
How to install a case fan
How to install a CPU
How to install RAM
How to install a graphics card
How to install an SSD / HDD
How to connect your system panel connector and case cables
How to put your case back together again and connect your peripherals
How to install Windows 10