How to Save in Kingdom Hearts 3
Kingdom Hearts 3 presents a sprawling epic which blends elements of Final Fantasy and Disney, to create something new entirely. There are 9 main worlds to visit, some lasting several hours at a time, and some pretty lengthy cutscenes as well. While playing through the game, you'll probably be wondering how you can save, especially since there's so much potential for lost save game data in between cutscenes. In this Kingdom Hearts 3 Saving Guide, we'll go over how saving works in-game, and explain whether or not there is an autosave in Kingdom Hearts 3.
How to Save
The most obvious way to save in Kingdom Hearts 3 is to use Save Points. These crop up in most of the larger areas you'll enter, and are usually placed before and after big boss fights. They are indicated by green portals, which you must interact with in order to save. We've included an image of a save point in Kingdom Hearts 3 below:
Can You Autosave?
Unlike a few of the previous entries in the series, Kingdom Hearts 3 does actually feature. It's not immediately obvious how often this occurs, but the game will autosave during gameplay sections. In our experience, saving is very frequent indeed, and it's rare that more than a few minutes go by before a save. Great news for those worried about losing progress.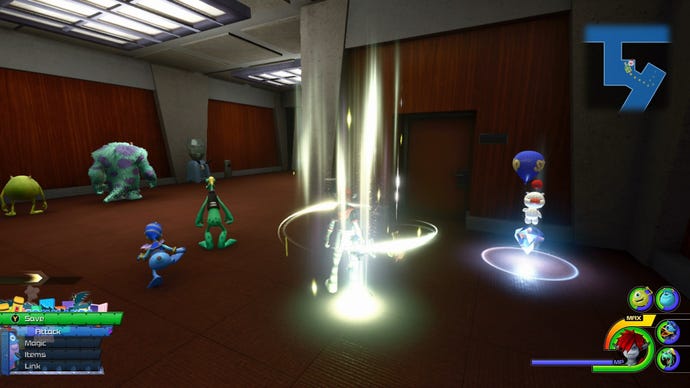 So there you have it, everything you need to know about saving your game in Kingdom Hearts 3. For more on the game, be sure to check out our Kingdom Hearts 3 Lucky Emblems Guide. There's also our complete walkthroughs for each of the worlds. So far we have walkthroughs for Olympus, Twilight Town, and Toy Box.